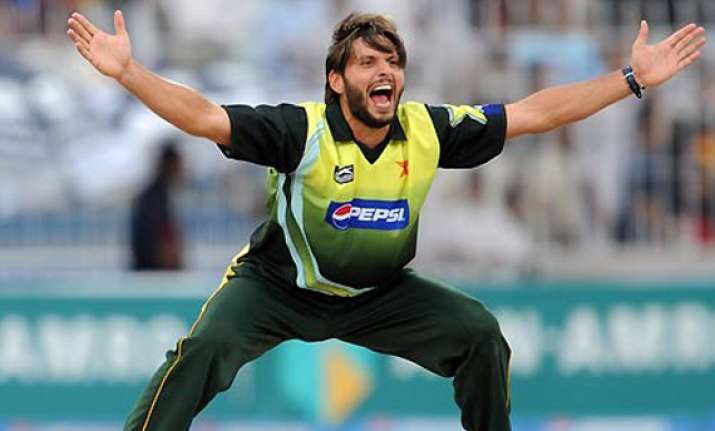 Islamabad, Oct 18: World Cup captain Shahid Afridi said Tuesday he is ready to play for Pakistan again now that a new chairman is in charge of the Pakistan Cricket Board.

Afridi led Pakistan to the World Cup semifinals in March but quit international cricket two months later after developing serious differences with coach Waqar Younis and former Pakistan Cricket Board chairman Ijaz Butt.

"Now the conditions have improved and I am available for Pakistan," Afridi told reporters in the southern port city of Karachi.

Afridi, one of Pakistan's greatest limited-overs players, was dumped as captain by Butt in May after beating West Indies in the Caribbean, prompting his conditional retirement.

He said at the time he could reverse his decision if the leadership changed.

After Butt's controversy-filled, three-year term ended on Oct. 8, Pakistan President Asif Ali Zardari, who is also patron of the PCB, appointed banker Zaka Ashraf as the new chairman.

"I had never said that I would not return to international cricket," Afridi said. "I had said that I would not play under the previous (PCB) management."

He added that he is willing to "play under anyone's captaincy."

Afridi's tussle with PCB officials began when he criticized team management on his return from Pakistan's 3-2 ODI series win against the West Indies. In response, the PCB suspended his contract and removed the enigmatic allrounder as captain for the two-match ODI series against Ireland in late May.

Team manager Intikhab Alam and Younis had criticized Afridi in their tour report of West Indies. Butt also blamed Afridi for losing the last two games.

Afridi was then fined 4.5 million rupees ($52,000) in June for violating PCB's code of conduct, but he was cleared to play abroad again.

Younis stepped down as coach soon after the series against Zimbabwe in September and was replaced by interim coach Mohsin Khan for the three-test series against Sri Lanka currently being played in the United Arab Emirates.

Alam has also been replaced by former test wicketkeeper Naushad Ali.