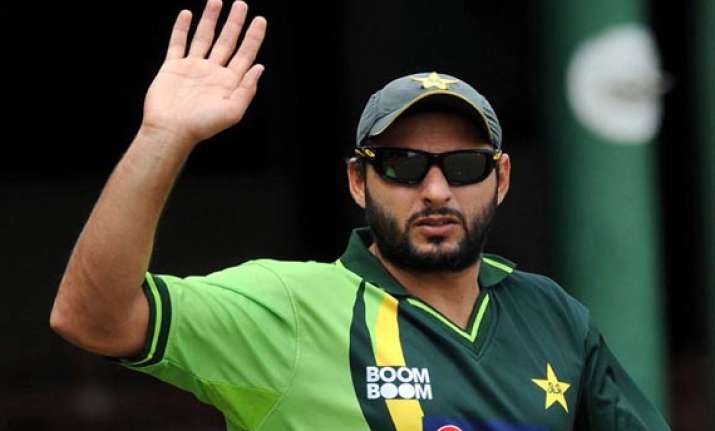 Karachi: Pakistan's senior batsman and former captain Shoaib Malik has said maverick all-rounder Shahid Afridi is the best person to replace Misbah-ul-Haq as skipper for next year's World Cup.
Malik, 32, said that if the Pakistan Cricket Board (PCB) wanted to change the captain of the national one-day team it should do it immediately.
"I don't know what the board has in mind but if they are thinking about changing the captaincy they should do it now because there is little time left before the World Cup," Malik said.
Malik, who had a successful run in the recent Caribbean Premier League, also felt that if there was to be a change in captaincy than Shahid Afridi was the best person to replace Misbah-ul-Haq at the moment.
"Afridi is a senior player and aggressive by nature and I think if the board decides to replace Misbah than Afridi is the best person to lead the side in the World Cup.
He is strong willed and can lead by example in the mega event." Asked if he would consider leading the team if given an opportunity, Malik said he had no intentions of doing so immediately.
"Even if the board offers me the captaincy than I will only do it after the World Cup 2015 and then try to groom a new team. Because it is a fact that after the World Cup some of our senior players will fade away," he said.
"I don't think this is the right time for me to be captain and right now honestly speaking my focus is only on winning back my place in the national side again."
Malik, who led Pakistan after the 2007 World Cup until 2009, also made it clear that the board needed to take quick decisions keeping in mind the interest of the team.
"This team is neither that of the board or any other individual, it belongs to and represents the people of Pakistan and those decisions should be taken which are in the interest of the team and country," Malik added.
Malik, who has played 32 Tests and 216 one-day internationals, also felt that presently the Pakistan team was lacking firepower in bowling.
Referring to the recent statement by Misbah that he missed Saeed Ajmal in the second one-day international against Sri Lanka, Malik said he could understand what Misbah was trying to say.
"Apart from Saeed we don't have bowlers who can take quick wickets and change a game in the last few overs. We need to build on our bowling firepower," he stated.