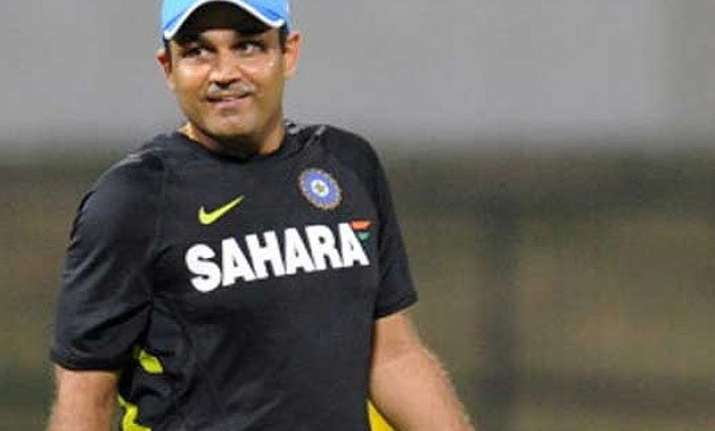 New Delhi:  Team India's most dashing opening batsman till date Virender Sehwag today announced his retirement from all forms of International cricket and IPL. Sehwag is known for his witty remarks that he used to make while playing the game.
Here we list five instances where Sehwag made those comments which go on to show his witty nature:
1) The Sehwag-Shoaib Akthar episode:  This is the most well known duel between the cricketers.  The incident took place when Pakistani speedster Shoaib Akhtar decided to bowl some short stuff to Sehwag to restrict his big hits.
Shoaib bowled bouncers to Sehwag and after every ball to Sehwag, Shoaib came up to him and said "Hook maar ke dikha" ( Hook this ball, if you can)
Sehwag replied "Yeh bowling kar raha hai ya bheekh maang raha hai?" (Is he bowling or begging?)
It was this comment on which even Pakistani fielders could not hold their laughter back.
After an over, Sehwag realised Shoaib Akthar was going to stick with this tactic, so he went up to Shoaib and said, "Wo tera baap khada hai non-striker end pe, usko bol woh marke dikhayega (Tell it your dad at the non-striker end, he will show it to you)."
The batsman on the non-striker end was legendary batsman Sachin Tendulakar. Shoaib later bowled a similar bouncer to Sachin, and Sachin hit a sixer. After the six, Sehwag walked up to Akthar and said, "Baap baap hota hai, beta beta hota hai (A son can't try to dominate his Dad)."
2) This happened during the India-Australaia-Sri Lanka tri series in 2011.
Team India's captain MS Dhoni felt Sehwag, Gambhir and Sachin were slow fielders and they leak too many runs in big grounds in Australia. Hence the three were rotated in each match.
After one match into the series, Sehwag was asked what he had to say of Dhoni's claim that he was a slow fielder.Sehwag's Reply, "Have you seen my catch?"
Sehwag hardly thinks before he says anything which is what makes him the most candid person in the Indian Cricket.
3) When Sehwag reached his triple century: In Multan where Sehwag scored his first triple century, Sachin Tendulkar was batting with him on the other end that asked him, actually ordered him "If one more six, you are dead."
In a format like Test match, you are supposed to stay calm and keep rotating the strikes and to put a much larger score and try to exhaust opposition's bowling line up. You can't just hit few sixes and fall prey to their smart bowling attack and go back dressing room boasting a higher strike rate.
So Sehwag went calm, from 74 runs to 295 runs he didn't hit any six.  At 295, he informed Sachin that if Saqlain Mustaq comes to bowl he was going to hit a six.
Sachin said that the team was at a stage where it doesn't matter whether he hit a six or not and its his personal opinion how to complete 300.
Luckily, next over was bowled by Saqlain Mustaq and there were two fielders standing on both off and leg side boundaries.
First ball it was a SIX, he raised his bat and finally 300!
When Multan ka Sultan was asked how he could hit a six at inspite of having two players on boundary, he replied when he had decided the moment that next ball is SIX, no matter you keep all 10 players on the boundary it will be a SIX !
4) An incident during Virender Sehwag's epic 319 against South Africa:  When Sehwag was on 291, Paul Harris started bowling the negative line from over the wicket due to which Sehwag wasn't able to score freely. Sehwag went to him and said, ''Come around the wicket and I will hit you for a six first ball.''
Harris accepted the challenge and the very first ball was hit for a six by Sehwag when there was a long-on, long-off and deep mid wicket.
 5) World Cup 2015, West Indies vs Zimbabwe: In the commentary box, V.V.S. Laxman and Sanjay Manjrekar were talking about Virender Sehwag's innings in Multan in which he became the first Indian to score a 300.
Laxman said, "Before Sehwag did his debut in test cricket he told me that I(Laxman) missed a 300 in Kolkata (Laxman made 281) but he (Sehwag) won't miss it and will become the first Indian to score a 300 !!"
Laxman also revealed that Sehwag pointed his bat towards Laxman after making 300 runs and made him remember that he told he was going to do it.
( With Inputs from Quora)