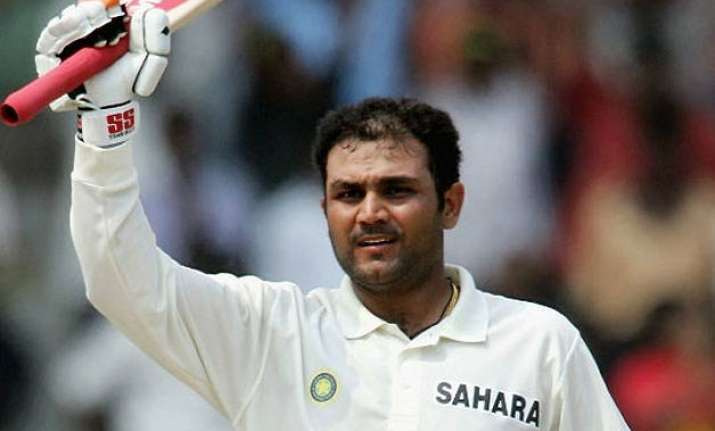 New Delhi:  Virender Sehwag, who is known for his blitzkrieg as an opening batsman changed the outlook of how batsman should play in a test match. Sehwag started his career as a middle order batsman but was promoted to open the innings later in his career.
Sehwag has played a total of 104 test matches in which he has scored 8586 runs at an average of 49.34. However, the most striking feature was the strike rate with which the 'Multan Ka Sultan' used to get these runs.  Sehwag's strike rate in Test matches is 82.23 .
As  Sehwag turns 37 we take a look on five of his most memorable innings that he has played in the Test matches.
1) 309 against Pakistan (Multan, 2004): It was this test match which gave Virender Sehwag the nick name 'Multan ka Sultan'. Sehwag took on Pakistan's most lethal spin bowler Saqlain Mushtaq and plundered him for 91 runs at a strike rate of 113.75. Sehwag hit a total of 8 fours & 6 sixes against him. He became the first Indian batsman to score a Test triple century. It was Sehwag's innings which helped India defeat Pakistan by an 'innings' since 1952.
2) 195 against Australia (Melbourne, 2003): Sehwag on a pace friendly wicket of Melbourne Cricket Ground (MCG) scored 195 runs. Sehwag's calibre can be judged by the fact that he single handedly scored 195 runs whereas the rest of 10 batsmen made 156 in between them.
He hit a total of 25 fours and 5 sixes during the innings.
3)  293 against Sri Lanka (Mumbai, 2009): Sehwag who has scored against all the top bowlers of his time took to Muttiah Muralitharan who has the record of taking highest number of wickets in test matches. Sehwag in this particular test match had hit a total of 47 boundaries (Fours: 40; Sixes: 7) which is the third highest ever in Tests.
It was after this series that Team India became the Test number 1 team for the first time.
4) 151 against Australia (Adelaide, 2008):  The highlight of this innings was that Virender Sehwag played an innings which helped Team India save a test match against Australia. It was on the fifth day of the test match and stalwarts of Indian cricket Rahul Dravid, Sachin Tendulkar, Sourav Ganguly & VVS Laxman made just 54 runs in between them.
Australia was sensing a victory but Sehwag played an uncharacteristically slow innings to save the match. In fact, it is his slowest 150+ score. It was also the 2nd highest score ever made in the 3rd/4th innings by an Indian batsman in Australia.
5) 201* against  Sri Lanka (Galle, 2008): The highlight of this test match was Ajantha Mendis who came to the international cricket arena as the 'mystery bowler' and batsmen found it hard to play his deliveries. However Sehwag scored 70 runs against Mendis at a strike rate of 90.90. It was Sehwag's innings which gave Team India its only victory of the Series.