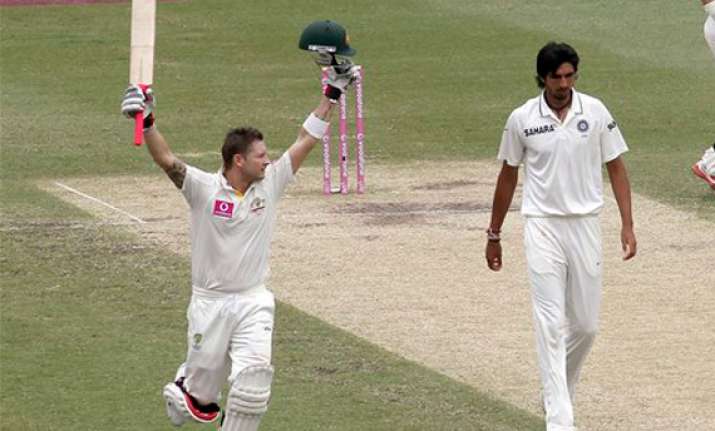 Sydney, Jan 5: A hapless India appeared headed for their sixth consecutive overseas Test defeat as Australia rode on skipper Michael Clarke's monumental unbeaten 329 and Michael Hussey's 150 to tighten the noose around the visitors in the second cricket Test here today.

With a mammoth first innings total of 659 for 4 declared, Australia had India on the mat at 114 for two on the third day which saw Clarke putting team ahead of personal milestone.

The left-hander looked good to surpass Brian Lara's record individual score of 400 but chose to declare the innings unbeaten at 329 after Hussey completed his 150 at the Sydney Cricket Ground.

He also chose not to go ahead of the legendary Don Bradman's score of 334 like another former Australian captain Mark Taylor, who had remained unbeaten at 334. Clarke's scintillating knock left India with the daunting task of batting out two full days, which raises the possibility of an innings defeat for them in the match. They had lost the first Test in Melbourne by 122 runs.

Opener Virender Sehwag (4) and an uncertain Rahul Dravid (29) were cooling their heels in the pavilion, leaving Gautam Gambhir (68) and Sachin Tendulkar (8) to fight. The visitors batted for 41 overs and nearly half the day after slogging it out on the field.

Gambhir has so far batted for three hours and struck nine fours off 124 balls. Tendulkar's grim 8 was made in over an hour's batting and he faced 42 balls.

Earlier, Australia continued their firm grip on the match by stretching their overnight score of 482 for 4 to 659 an hour after lunch without losing a single wicket.

Michael Hussey, overnight 55, remained unbeaten on 150 but the glory of the day belonged to Clarke who was left unconquered on 329, the highest score ever made at the SCG, which is hosting its 100th Test.

Michael Clarke completed a triple century and then saw his bowlers take two prize India wickets on day three of the second test as the hosts closed in on a 2-0 series lead.

Ben Hilfenhaus removed Virender Sehwag and then captured Rahul Dravid just before stumps.

At the close of play Gautam Gambhir was 68 not out and Sachin Tendulkar was unbeaten on 8, with their partnership representing India's best hope of staving off defeat with two days to play. Both had narrow escapes in the overs leading up to stumps.

Clarke's 329 was the fourth-highest score by an Australian in tests—behind Matthew Hayden (380), Mark Taylor (334 not out) and Sir Donald Bradman (334) -- and the best score at the SCG in its 100 test history.

The innings total of 659-4 also equaled Australia's highest score at the ground. Mike Hussey finished on 150 not out, as he and Clarke combined for a record 334-run partnership against India before Clarke made a surprising declaration at drinks in the middle session, the midpoint of the match.

Clarke said he was more concerned about pushing for victory than chasing milestones, including Brian Lara's test record of 400 and Matthew Hayden's Australian high of 380, set in 2003.

"It's about putting the team first. That's why we play you know, that's what I love most about this game, is seeing this team win," Clarke said. "I've been like that as a player and I'll be no different as a captain.

"If it was best for the team to continue batting then I would have continued to bat. But I thought it was best for the team to pull out and try and get a couple of wickets tonight and fortunately that's what happened."

Clarke hit a four through mid wicket off Ishant Sharma to bring up his 300 in 431 balls with 37 fours and one six.  Clarke ran and punched the air in joy as he celebrated in front of a crowd of 31,644.

Before lunch Clarke had passed Don Bradman's score of 270, to hold the best score by an Australian captain on home soil and England's Reginald 'Tip' Foster's mark of 287 in 1903 as the highest SCG score.

If not for the declaration, Lara's mark of 400 might also have gone, as India's bowling attack again failed to make any inroads into a dominant Australia batting lineup and captured just one wicket—Ricky Ponting for 134 -- in nearly five sessions.

Clarke's epic innings overshadowed Hussey's excellent performance in reaching his second highest test score. He was the more aggressive batsman Thursday, frequently advancing from his crease to hit down the ground.

Hussey's 150 came off 252 balls, with 16 fours and one six and was his first century since the tour of Sri Lanka in September 2011.

"I don't really mind," Hussey said of having to share his moment with Clarke. "I said to Pup (Clarke) out in the middle I was honored and privileged to be out there to witness and be a part of that." "It was a fantastic innings and one that I'll remember for a long time and I'm sure Pup will as well and one that put our team into a very strong position in the test match." Australia carried its momentum into the field, as Hilfenhaus struck early in India's second innings to remove Sehwag for four, brilliantly caught by Dave Warner at gully.

Gambhir and Dravid, however, dug in and moved India's 2nd innings to 100 without further loss, before Hilfenhaus struck in the first over after the final drinks break, cutting a ball between Dravid's bat and pad to hit the top of off stump. It was the sixth time Dravid has been bowled in his past eight test innings.

Tendulkar was lucky to survive until stumps, as he edged a ball narrowly past his leg stump. The 'Little Master' will resume Friday in his quest to score his 100th international century, having been stuck on 99 since March 2011.

Coming into this match, he averaged an astonishing 221 at the SCG, but could only manage 41 in the first innings here.

Dravid hoped Tendulkar could reach that milestone tomorrow, mostly because India is in dire need of a big score.

"Every situation is set up for Sachin," he said. "From a team perspective I hope it happens tomorrow. That will mean we're scored a few runs."

"We need some inspiration, because we haven't performed these last few days." Gambhir, who has struggled on tour with scores of 3, 13 and 0, played several flush cover drives in an entertaining 68, including scoring his first fifty this series off just 54 balls.

James Pattinson had a vigorous appeal for LBW turned down when Gambhir was on 61.

Replays showed umpire Marias Erasmus made a good decision, as Gambhir nicked the ball onto his pads.  Pattinson should have had Gambhir in the second last over the day, but wicketkeeper Brad Haddin inexplicably dropped a simple chance.

Captain Clarke said removing the Indian batsman from a placid pitch shaped as a difficult task for his bowlers.

"There's not much there for the bowlers, there's no real swing, no reverse swing and not much spin to be honest," Clarke said.

"We're going to have to bowl a lot of overs, we're going to have to be very accurate and we're going to have to hang on to our chances over the next two days to win this test match, because India are a very good batting team as we've seen for a long time now and the wicket is pretty flat."

"But I'm confident, no doubt, that we're in a great position to win this test match." India's woes were compounded by news that, India's Virat Kohli was fined 50 percent of his match fee for making an obscene gesture to jeering and taunting fans on day two.

In a hearing before play Thursday, Kohli admitted raising a middle finger to the fans, and match referee Ranjan Madugalle found him guilty of a level two offence of the International Cricket Council's code of conduct.