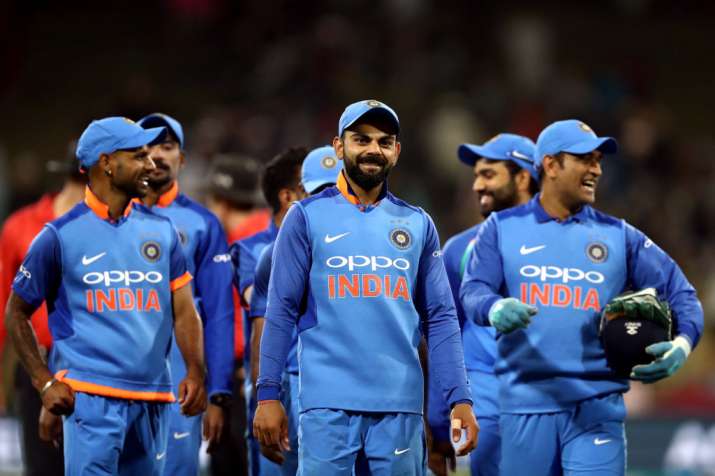 India are all set to play two T20Is and five ODIs with defending champions Australia from February 24 to March 13 and that is going to be it in terms of trying and testing for the final squad for the prominent upcoming World Cup.
The two T20Is will be played in Visakhapatnam (February 24) and Bengaluru (February 27) while the ODI series will start on March 2 in Hyderabad and will be followed by matches in Nagpur (March 5), Ranchi (March 8), Mohali (March 10) and Delhi (March 13).
With seven international games and a gruelling Indian Premier League to follow, should India look to rest some of the regulars or play the best team in order to perfect the combination for the World Cup in May?
As things stand, it is all set to be the latter.
Rohit Sharma, who stood in as skipper for Virat Kohli in the last two ODIs and the three T20Is against New Zealand, could be rested for the two T20 games but is likely to be back for the fifty-over format.
Rohit's absence could well give India an opportunity to try out the position for a third opener, which is still up for grabs after Shubman Gill failed to take his chances in New Zealand. 
KL Rahul could be an option and after his patient 89 against England Lions in the first unofficial Test, he would be fancying his chances of making a comeback. Ajinkya Rahane could be the other option as the chairman of selectors MSK Prasad said that they are looking at the Mumbaikar as well for the World Cup.
The middle-order looks settled with Kohli coming back and Ambati Rayudu more or less doing enough to secure a place in the side. However, Rishabh Pant and Dinesh Karthik are likely to battle it out for the second wicket-keepers slot as Kedar Jadhav at No.6 is a luxury to have and Kohli won't want to compromise on that.
Coming to the lower-order, Vijay Shankar's performance with the bat and ability to chip in with a few overs could provide a healthy headache for the team management but he is unlikely to replace Hardik Pandya in the squad as the latter has been impressive in the games he has played against the Black Caps. However, Shankar could well be the extra all-rounder India carry in place of Ravindra Jadeja considering the conditions in England and is likely to be backed for the series against Australia as well.
The bowling set-up is more or less fixed with Jasprit Bumrah likely to come back and will be joined by Bhuvneshwar Kumar and Mohammed Shami, who more or less booked a ticket to England with his show in Australia and New Zeland. The search for the fourth option could see India give someone else a chance but Khaleel Ahmed's variety could tempt them to persist with him.
Kuldeep Yadav and Yuzvendra Chahal are all set to be India's two spinners and may well be joined by Jadeja if the selectors and management want to have an extra option. Jadeja could also be given a run for his money by Krunal Pandya, who has recently done more good than bad after making his international debut last year.
The time for cropping and changing is over and the 15 or 16 against the Aussies are likely to board the plane to England and that makes the team selection on February 15 in Mumbai less exciting for people but extremely important for the team, who would hope to continue their good form going into the World Cup.
Probable squads: 
ODIs: Virat Kohli (C), Rohit Sharma, Shikhar Dhawan, Ambati Rayudu, Dinesh Karthik/Rishabh Pant, Kedar Jadhav, MS Dhoni (WK), Kuldeep Yadav, Yuzvendra Chahal, KL Rahul/Ravindra Jadeja/Krunal Pandya, Vijay Shankar, Bhuvneshwar Kumar, K Khaleel Ahmed, Mohammed Shami, Hardik Pandya, Jasprit Bumrah
T20Is: Virat Kohli (C), Shikhar Dhawan, KL Rahul, Dinesh Karthik, Rishabh Pant, Kedar Jadhav, MS Dhoni (WK), Kuldeep Yadav, Yuzvendra Chahal, Krunal Pandya, Vijay Shankar, Bhuvneshwar Kumar, K Khaleel Ahmed/Mohammed Siraj, Mohammed Shami, Hardik Pandya, Jasprit Bumrah