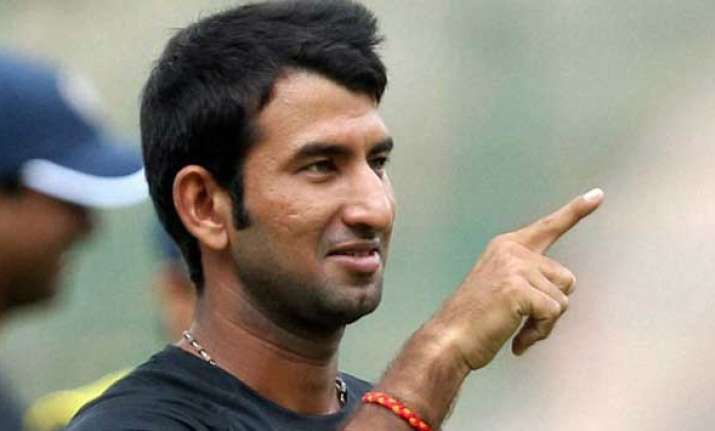 India may have been pushed to back foot by the English Team on the Day 2 of the third Test match, but right-handed Indian batsman Cheteshwar Pujara feels that his team still have the advantage.
India were sailing along in their first innings, posting 148/2 by tea with Pujara and Indian skipper Virat Kohli batting comfortably to post a 75-run partnership.
But the visitors hit back in the final session of the day, clinching four wickets before the hosts rode on some aggressive batting by Ravichandran Ashwin and Ravindra Jadeja to post 271/6 at stumps.
England's first innings had ended on 283 runs early in the morning session.
With Ashwin completing his half-century and Jadeja also seemingly in good form, Pujara asserted that the Indians were well poised to clinch a decisive advantage on the third day.
"We have batted really well and we have an advantage because both our all-rounders are playing. So, probably the first session will be really crucial for us. But our game plan will be really simple," he said. 
"We will be looking to get a lead of around 75 to 100 runs. If they (Ashwin and Jadeja) continue batting then you never know. Both of them can bat. As we saw in the last game Jayant Yadav can also bat," Pujara told the media at the end of the day's play.
"So our lower order has been contributing in all the Test matches. So we expect them to contribute tomorrow as well."
The 28-year-old right-hander was also pleased with the way he and Kohli had batted during the session, asserting that the England bowlers bowled a negative line to frustrate them.
"We were not struggling. I felt that the line that they were bowling was a bit negative. But I still feel that the way we batted and showed character. We were leaving the balls outside the off-stump and we built a partnership which was really crucial for the team."
"I think the second session was good for us. I won't say they had an advantage because the line that they were bowling was slightly negative," Pujara said.
"Everyone has their own game plan and I don't think that there was anything wrong with the way we batted. We stuck to our plans. Obviously the last session where lost many wickets which we did not want to, but obviously things happen." 
"But we recovered well from that. We have been leaving the balls outside the off-stump, not just in this Test match but in the past as well as part of a clear game plan," he added.
The Saurashtra batsman also praised wicketkeeper-batsman Parthiv Patel who made a comeback to international cricket after a gap of several years. 
Patel opened the batting with Murali Vijay and did well to post 42 runs off 85 deliveries with six hits to the fence.
"Parthiv has been a good batsman. The kind of runs he has scored in first class cricket, we could see his confidence in this game," Pujara said. 
"Another thing is he has got the experience playing a lot of first class cricket and he has played Test cricket at the age of 17 so probably he has matured now and the kind of form he has we hope he will continue batting well even in the second innings."
(With IANS inputs)