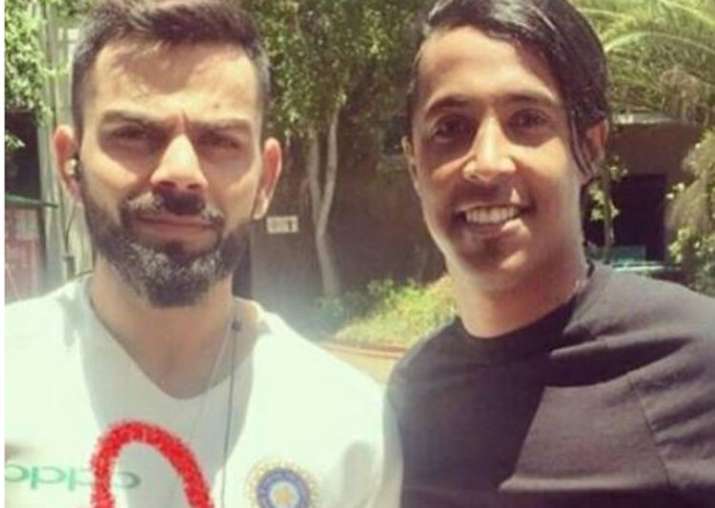 It is well-documented how Virat Kohli has set new standards in world cricket through his record-breaking batting, brilliant captaincy and his excellent fitness levels. Since making his India debut in 2008, Kohli has transformed himself into a run-machine and is now rated among the best batsmen of modern-day cricket.
However, just as the 29-year-old is scripting new records almost at will and inspiring a whole new generation, he seems to be ruling off the pitch too.
Kohli, who recently got married to girlfriend and Bollywood actor Anushka Sharma in a hush-hush wedding ceremony in Italy on December 11, is now setting husband goals for the newly-married to follow.
In a recently-surfaced picture on social media, Kohli is seen wearing his wedding ring around his neck as he posed for pictures with a fan.
The Instagram account, which posted the picture, captioned it: "HUSBAND GOALS Virat wears his wedding ring on the neck with a chain whenever out for a practice session. The husband Virat Kohli is inevitably Goals."
Kohli used his ring as a pendant on the chain he was wearing. Kohli's move has charmed his followers and will surely inspire many others.   
"He is such goals." Another wrote: "Awww... isn't this adorable," wrote one of the followers.
From cricketing point of view, wearing is a chain is far more convenient and easy as it will not hamper the hand movements of a player as compared to a ring which might pose a problem while donning the batting gloves. A ring can also damage the respective finger while batting for long hours wearing gloves and can pose an injury threat during fielding.
Kohli is currently on a long tour to South Africa where the Indian team will play three Tests, six ODIs and three T20Is. The first Test starts on January 5 in Cape Town.