Follow us on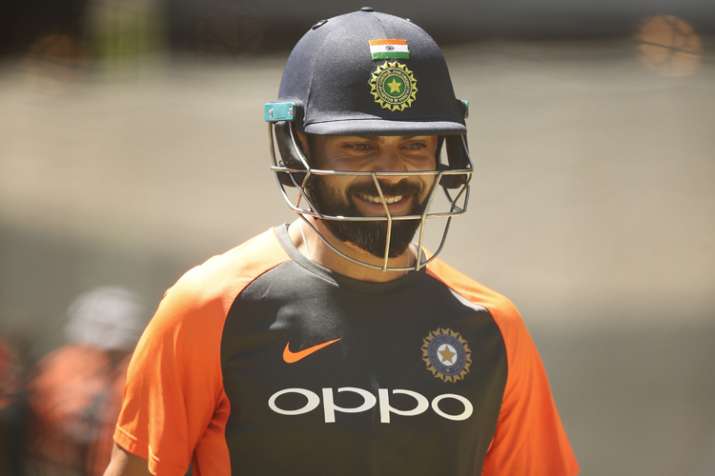 Team India captain Virat Kohli is excited and optimistic about his team's chances of going 2-0 up in the four-match Test series when they the two teams get down to business at the Perth Stadium on Friday.
Perth, generally known for its pace and bounce has always been a nemesis for Indian teams because of the quickness of the track but this Indian team is unfazed and much of it is because of the thunderous quintet it has at its disposal.
Jasprit Bumrah, Mohammed Shami and Ishant Sharma picked up 14 wickets among themselves in the first Test as India edged Australia by 31 runs in Adelaide. And on Perth, India may well go in with either of Bhuvneshwar Kumar and Umesh Yadav as the pitch till now has a fair cover of grass -- something the Indian pace battery will relish.
Speaking at the pre-match press conference, Kohli said that India played on a similar track in Johannesburg in South Africa earlier this year and won and they are looking to the similar in the new stadium in Western Australia.
"Really excited. We saw the pitch, there is quite a lot of grass on it. We are really happy as we wanted more grass here than Adelaide. Our pacers will come into the game. As a team you sense there is an opportunity to win and that will only happen when you take 20 wickets.
"Whenever we see such a pitch where we feel it is going to be difficult, we take it positively. We have a chance to get a result. Getting hit, the wickets having pace are small things in front of getting a result. So we will go with the same mindset like we went to the Jo'Burg game. It looked really difficult but we won. So, mindset matters and with the current situation, we want to play on difficult wickets, so that we can take 20 wickets and stand a chance to win," Kohli said.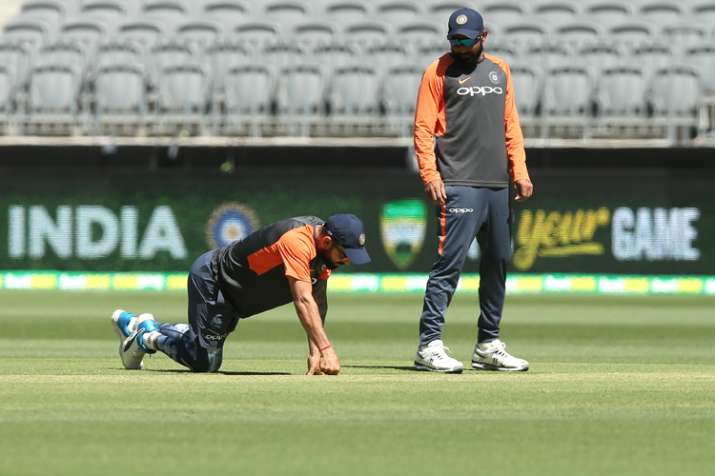 The 30-year-old said that on a pitch covered with grass, there are no favourites as both the teams can falter but added that Australia will look to take advantage of the situation as it suits them more.
"I've played all around the world for 10 years and I didn't play on a wicket like Jo'burg to be honest. I played at Perth as well in 2012 and that was not even close to what Jo'burg was. We are not alien to pitches like these. We have played on such pitches in the past and it is nothing new to us. We know what to expect from it. On a lively wicket with as much grass on it and hard, you are as much in the game as the opposition. There are no favourites to begin the Test and whichever team plays well and is brave enough to tackle the conditions, wins on tough wickets. So, we are definitely confident on the percentage of chances we have and we want to build on that," Kohli said.
"Australia is going to be a strong team at their home conditions and on a wicket like Perth which probably offers you more than other pitches in Australia but as I said, we have an equal chance of winning this Test match," he added.
India have always been known to struggle on green tops but this team has done well overseas despite not being able to win a series. India won in Jo'burg and barring Lord's, put up a decent account of themselves in England. And Kohli feels that the batsmen need to get the runs on the board and then the bowlers have it in them to roll the opposition over twice in a match. 
"We get really excited than nervous at looking at lively pitches because we realise that we have a bowling attack that can bowl the opposition out as much as they are convinced about their attack. When you have four-five fast bowlers at the peak of their ability, it's always a great feeling to have in the side.
"For us batsmen also there is a lot of motivation and boost that we can put up those match-winning, significant batting performances because we have so much belief in our bowling that unit right now that if we bat well, we will definitely get the result we want. It's a very exciting phase to be in but it is something we need to build on. We cannot be complacent and satisfied with one win, we have to keep repeating the good things," said the Indian captain.
He hoped that the grass is not cut off as a grass cover gives the Indian bowlers a chance to better their show than in Adelaide.
"I was happy to see the pitch as it is. I hope no more grass is taken off it. That will mean the first three days will be very lively and we as a team are very happy with that. We just have to challenge ourselves as a batting unit to show discipline and positive intent and then ask the bowlers to do the job they did in Adelaide as well. 
"I feel this pitch is going to offer significantly more to the bowlers that Adelaide did and that's something we are very excited about," Kohli said.
The right-hander also heaped praise on his bowlers and said that he is lucky to have them at their peak when he is the captain of the Indian team.
"I'm lucky when they are at their peak when I am the captain. I haven't gone scouting for them and picked up five people. They have been playing for a while and just that they have come on to their own when I'm captain. So, I won't take credit for unleashing someone because they are working on their game and I am proud to have guys that are at the peak of their powers.
"I'm happy and grateful that these guys are at their peak right now. It is helping Indian cricket because the way they have bowled in the last three tours, it is amazing to see how hungry they are to get 20 wickets in a game and how they are not giving away easy runs. I'm sure that is something they have really worked hard on and it is coming together now and I'm sure everyone is enjoying watching us play," said the No.1 batsman in Tests.