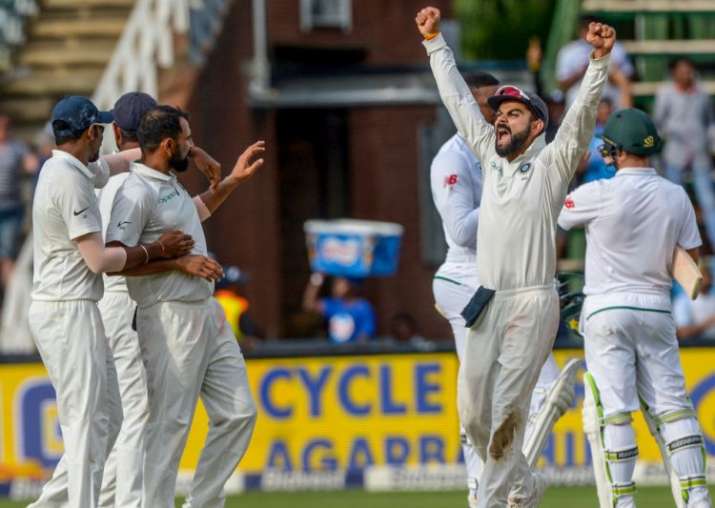 As India gear up to take on England in a lengthy series following a 2-0 T20I clean sweep in Ireland, former captain Sourav Ganguly strongly believes that the current team, under the captaincy of Virat Kohli, has all the potential and ability to win the Test series in tough English conditions. India will play three T20Is, three ODIs and five Test matches in a two-month-long series, starting July 3.
"Whenever I see Virat Kohli playing for India, leading the team, I get a feeling that this team has the potential and ability to win the Test series in England as they are fighters on the field. They were not able to win the past two series there in 2011 and 2014 but this team has a realistic chance of winning the Test series," Ganguly told IndiaTV during the show 'Cricket Ki Baat' on Saturday. (Also Read: India vs England will be 100 per cent entertainment, says Shastri)
Ganguly was of the opinion that when you compare both the teams on man-to-man basis and especially when you see India's bowling attack, you know that they have the capability to take 20 wickets. "For me, the important thing will be to see how many runs India put on the board. When I was the captain, Anil Kumble used to tell me that you give me 500 runs on the board and we will win you the match. Virat Kohli, Ajinkya Rahane, Murali Vijay, KL Rahul... all of them will have to think over the fact that how they will score at least 450 to 500 runs. The weather in England is a little on the hotter side and I feel the wickets will be good to bat on. So, if Indian batsmen score 450 to 500 runs, they will have a chance to win."
The former firebrand skipper believes that the Test series will be a big test for current skipper Kohli both as a captain as well as a player. But Ganguly believes that the 29-year-old Delhi batsman has it in him to excel in England this time around. 
"Last time he didn't score runs so he will eager to correct that this time. There is a lot of difference between Kohli of 2014 and 2018. I think he will score runs this time. Kohli's footwork and bat movement has improved. He has to be careful at the start and treat balls moving outside the off stump with caution. England's bowling lineup is aging and Kohli is a batsman who is moving upwards. Kohli has an empty chapter in his life and I think it will be written in England this time. This will be an opportunity for Kohli and he should encash it," Ganguly added. (Also Read: Chahal, Kuldeep raring to go against England)
Talking about the playing XI for the Test series, Dada was in favour of including Rahul and Kuldeep on the team sheet. He also stressed the pivotal role that Hardik is supposed to play in the team. "KL Rahul and M Vijay should open in Test cricket. Pujara at 3, Kohli at 4, Rahane at 5, Saha at 6, Pandya at 7. Pandya is the fulcrum of this side, so his game has to be solid. Bumrah, Bhuvi, Umesh, Pandya, Ashwin. I would start with Kuldeep over Ashwin in the first Test. He has the ability to create doubts in the minds of batsmen," he said.
On the question of sledging and its role in cricket, in the context of recent infamous on-field brawls, Ganguly said, "Sledging should be there. Aggression should be there. I don't like Hi and Hello type of cricket."
Appearing on India TV's show 'Cricket Ki Baat' as a cricket expert, former Indian captain remembered his memorable debut in England with fondness. "My journey in Test cricket started in England in 1996 when I hit a hundred at Lord's and my second Test was at Trent Bridge, where also I hit a hundred. So, England is an emotional place for me and then in 2002 I went there as the captain and won the NatWest Trophy. In 2007, we went there and won the Test series for the first time in 25 years. So, I have a lot of good memories related to England," Ganguly recalled. (Also Read: Kohli has changed a lot since 2014, says Harbhajan)
Regarding India's chances in the upcoming T20Is against England, Sourav said, "India's away T20 record is not that good in bilateral series. But they won against South Africa in the T20I series and they will have to take confidence from it. However, England have a strong T20 team. It won't be easy for India in the T20Is. They will have to play well. The win against South Africa will give them a lot of confidence. The conditions and form of the players will be important. Somehow, I feel that the team which England have in those conditions, they will have the upper hand in T20Is. But if the likes of Virat Kohli, MS Dhoni and Shikhar Dhawan manage to get going, then India will be able to beat England."
While off-spinner Washington Sundar is still recovering from an injury Dada believes that he is an important cog in the India setup as England have a number of left-handed batsmen in their team which makes an off-spinner's role very crucial. "So, it will be a good contest," he quipped. 
When asked about the ideal playing combination for India for the T20Is, Dada laid down the formula of using the spinners against the English batting.
"India have three spinners - an off-spinner (Washington Sundar), a left arm wrist-spinner (Kuldeep Yadav) and a leg-spinner (Yuzvendra Chahal). Old Trafford has been a spin-friendly track, so advantage will be with India. But if I am England captain, I will leave some grass over it. All the three spinners can win India matches. Kuldeep and Chahal will start because England don't play wrist-spin very well. But if I am an England batsman, I will not let them settle by going for the attack. (Also Read: India have the players to beat England in their own backyard, says Rohit)
"Rohit, Shikhar, Virat, Dhoni and Hardik are automatic selections. Dinesh Karthik played a great knock against Sri Lanka. In the batting order Karthik should come at No. four, Dhoni at five, then Pandya followed by five bowlers," he added.
On the issue of the in-form KL Rahul's place in the side, Dada said, "The problem with KL Rahul is that he is a top order batsman. Rahul can come at No. three and Kohli at four. This balance seems good to me. I will go with KL Rahul because I think he is a quality player. However, you can't also drop Raina because he fields well. This is a good headache for India." 
About India's chances of winning the T20I series Ganguly explained, "On the form, England is ahead. But don't underestimate this Indian team. Any kind of prediction is very difficult. It's a small series so the start will be crucial in both the series. This is a new beginning for India. Forget 2011 and 2014." 
For the 3-match ODI series that follows the T20Is against England, Ganguly believes that both the teams have 50-50 chances of winning it. "England have thrashed Australia by 5-0. This England team is dangerous. Ben Stokes give a great balance to the England team. Joe Root is the fevicol of this team, who holds the team together. Whether it is Bairstow, Roy, Morgan, Hales or Root, they can all take the match away from you," he commented.
Ganguly said the advantage for India is that all the bowlers move the ball in. The opener Shikhar Dhawan also will be a great asset in these conditions. He expects the wickets to be good during the matches which should suit India as their top order batting is their strength. 
Ajinkya Rahane, who was dropped from the ODI side after a poor IPL season, can find solace in the fact that Ganguly believes he has been dealt an unwarranted blow. 
"I don't know how they dropped Rahane. They should have definitely picked him. You can't drop a player like Rahane. Rahane is the same player as Dravid in ODIs. Dravid succeeded for India because the team management stuck to him. Rahane is a dark horse. Dropping him is not good for Rahane's confidence. Captain Virat Kohli has to see to it that class players like Rahul and Rahane are not left out and taken care of. Kohli along with the selectors and the coach Ravi Shastri has to take care of man management and it is a golden opportunity for Kohli as a captain," suggested Ganguly.
Talking about the Yo-Yo fitness test that has recently created ripples with pundits calling for it to be conducted before selection. But Dada, however, backed the initiative by saying, "The Yo-Yo test is a great thing to start. It has changed the fitness culture of the team. I definitely feel this is a good initiative."
Mentioning wicketkeeper-batsman MS Dhoni, Ganguly said his ability is diminishing with time. "He has to play up the order. Dhoni is an important member in this team. Good thing to see Kohli and Shastri backing Dhoni. Dhoni must be a part of the think tank."
Ganguly also stressed upon the crucial role all-rounder Hardik Pandya needs to play for his side. "Pandya has the ability, but his temperament is not great. He is technically sound, but he has to keep his mind at a good place. He has to play fewer shots at this level. After playing a shot, he has to play in the gap. If he wants to be consistent, he has to improve his temperament. He has to play his role very well. Solidity has to come in his game," he concluded.