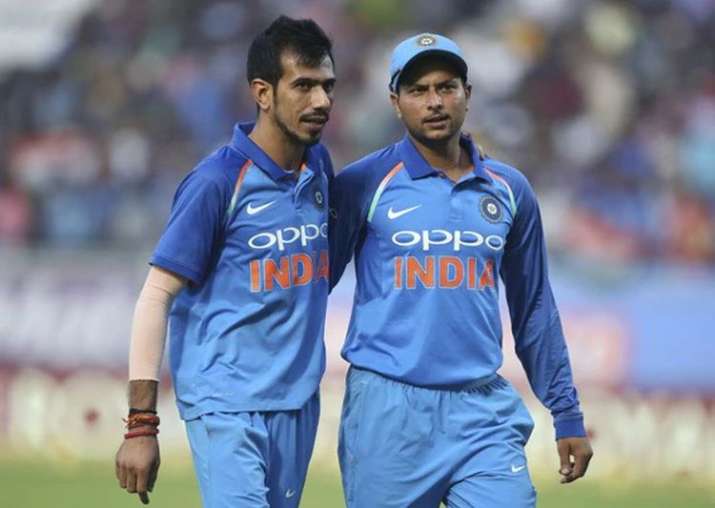 India's star wrist-spinners Yuzvendra Chahal and Kuldeep Yadav, who have been pivotal in the national cricket team's dominant run in the international cricket in past few seasons, have set their sights on the upcoming England tour, with the 2019 World Cup in mind that will be played at the same venue.
India are scheduled to play three ODIs, five Tests and three T20Is in England, starting July 3. Both Chahal and Kuldeep, talking to IndiaTV in an exclusive interview, displayed sheer confidence ahead of India's tough tour to a country where they suffered 3-1 defeat in five-Test series in their last tour in 2014. India, however, won the five-match ODI series 3-1 but lost the one-off T20I.
"We have played teams like Sri Lanka and Australia in past one year and won matches throughout the season. It will be my first tour to England, so it's very important for me as the 2019 World Cup will also be played there. The team going to England this time is certainly the best one," Chahal told IndiaTV during the show 'Cricket Ki Baat'.
Kuldeep echoed Chahal's thoughts, adding that England are a very strong team, as far as the limited-over cricket is concerned. "As a youngster, you want to do well in every series. England are a very strong team. They are playing good cricket in ODIs and T20Is. It is an opportunity for youngsters like us to do well against them at their home."
Before the tough England challenge, India will take on Ireland in a two-match T20I series, starting June 27. For the UK tour, the Virat Kohli-led side boasts of a strong bowling unit in the squad, which includes Chahal and Kuldeep along with Washington Sundar, Bhuvneshwar Kumar, Jasprit Bumrah, Siddarth Kaul and Umesh Yadav.
Chahal is confident that India's "perfect" death bowling will play a crucial role in pace-friendly conditions. "Our death bowling is perfect as we have Bhuvi, Bumrah and now Siddharth Kaul as well.
The 27-year-old continued: "As far as spin department is concerned, I and Kuldeep are there along with Sundar. Thanks to the IPL, we have a good bench strength now; if one player is not available for a match, we have his replacement."
The recently-concluded Indian Premier League (IPL) saw talented bowlers such as Sundar and Kaul carving their way to the national team after a successful season. Kuldeep also acknowledged the tournament for churning out the best of the talents and providing youngsters a platform to hone their skills.
"IPL is the toughest league and if you wish to survive in that standard then you will always have to remain on the top. IPL provides a youngster a platform to hon his skills and play alongside the best of the world cricketers," he said.
The formidable spin duo was full of praises for captain Kohli, saying that he always backs spinners in the team and tries to boost their confidence. 
"The way Virat Kohli has managed us has been commendable. We all need a captain who keep his faith in us, understand our abilities and support our talent. He backs our strengths as always tells us to bowl according to our strengths. It becomes easy to bowl and communicate in such environment," Kuldeep said.
Chahal joined in, saying: "He (Kohli) backs everyone in the team. He talks to the players who fail to perform on a given day and tries to boost their confidence. In IPL, we get to play 14 matches and that is much more than a series. We get more chances of comeback in IPL, so he always motivates the players and never put pressure on youngsters."
Leg-spinner Chahal also credited former captain and wicket-keeper MS Dhoni for the recent success of Indian spinners, claiming that he does "50 percent" of their work from behind the stumps.
"MS Dhoni does 50 percent of our work from behind the stumps. When we come to bowl, he gives us all the important inputs related to the wicket and weak areas of a batsman," he said.
Kuldeep revealed how getting wickets are more important for both the leading men Kohli and Dhoni and thus they believe in their spinners even when they concede a lot many runs. 
"Both Kohli and Dhoni back spinners in the team. Even when we concede 10-15 runs in an over, they don't put pressure on us. Wickets are more important for them, so they keep their faith in us," the 23-year-old chinaman added.
Both the spinners agreed to one conclusion that it is their bonding that helps up outclass the best of batsmen in the world. 
"If I bowl before him, I explain to him the condition of the wicket. He does the same; he tells me a batsman's weak areas if he bowls to him before me. We are successful because we have a good bonding with each other. We support each other, and we know if one concedes runs, the other can stop them from the other end," Chahal said, explaining their bond.
"In ODIs, the middle-overs are very important. If your fast bowlers are bowling 10-15 overs and claiming a few wickets, then the next 15 to 30-35 overs becomes very crucial. As a pair, if we claim four wickets in those overs, the opposite team comes on the back foot. We talk a lot and have fun with each other, both on and off-field," Kuldeep concluded.