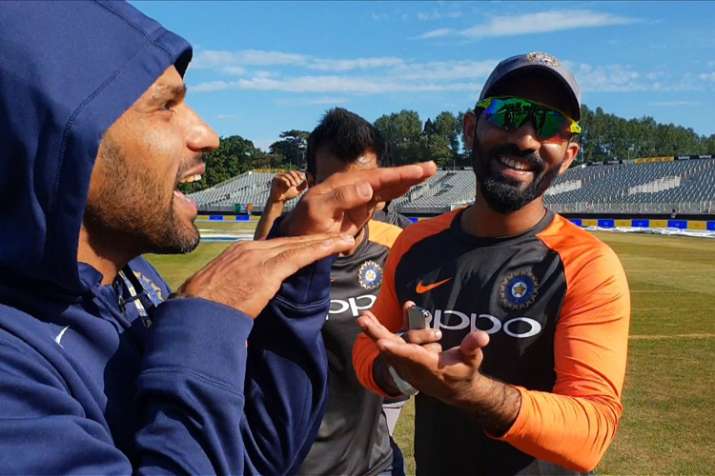 The Indian team spent its first day in Dublin training hard for the first T20I against Ireland to be played later today. But it was not devoid of any entertainment quotient as was visible in a video released by the BCCI today.
In the video, Dinesh Karthik - DK as he is fondly called - is seen presenting the introduction to Team India's nets session on a mic. What catches one's attention is the fact that Shikhar Dhawan and Yuzvendra Chahal are seen getting involved in a friendly banter with DK, the presenter.
While DK was talking to the camera, Dhawan interrupts him by jumping across him while making funny hand gestures. Chahal joins in and laughs are heard in the background. It was later revealed by Karthik that Dhawan was taking a day off and was not doing any training as he believes "rest before the test is the best". This ritual of not practising before the match didn't surprise the stumper as he quipped that Dhawan was in sync with nature and so probably didn't need to acclimatize. 
Dhawan in his typical style retorts by saying that he admires the way DK speaks and at the pace that he does so. The opener jokingly added that DK is a legend due to his ability to speak so fluently on camera.
Earlier, the Men in Blue chose to go straight for the nets after arriving at their hotel in Dublin. Once at the ground they divided themselves into two teams - MS Dhoni and Virat Kohli leading the sides respectively. DK admitted that Kohli's side won the friendly game by a 4-2 margin.