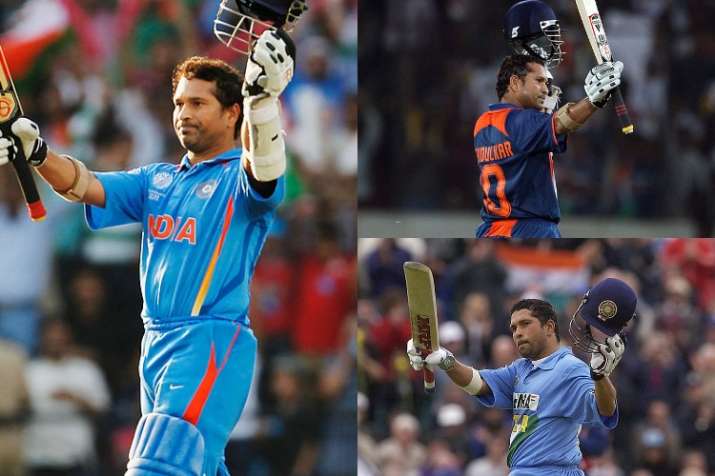 "Tendulkar has gone two decades being a blend of the sublime and the precise, incapable of ugliness or of being dull; and those are among the least of his achievements," Peter Roebuck once wrote of India's proudest possession.
To emphasise on his longevity, Roebuck wrote, "The Berlin Wall was taken down a week before Sachin Tendulkar first wore the colours of his country, Nelson Mandela was behind bars, Allan Border was captaining Australia, and India was a patronised country known for its dust, poverty, timid batsmen and not much else."
A day ahead of the Sachin Tendulkar's birthday, Indiatvnews.com recalls the Master Blaster's top 5 ODI innings. 
We asked five individuals to pick what they considered Tendulkar's best ODI innings. Here's our compilation but we would also like to know what you think was his best ODI knock. You can send in your comments or reply to the story on India TV's Facebook and Twitter handle.
Master Blaster @sachin_rt turns 46 tomorrow. Pick your best Tendulkar ODI knock.
Read more: https://t.co/Nt1hBziGZ6#HappyBirthdaySachin

— India TV (@indiatvnews) April 23, 2019
Sachin Tendulkar's 175 in Hyderabad – The Master turns the clock back (India vs Australia, 5th ODI, 2009)
Batting first, the visiting Australian side scored 350 for the loss of four wickets. Australian innings was powered by Shane Watson's 93 and Shaun Marsh's run-a-ball 112. Ricky Ponting pitched with 45 while Cameron White's 33-ball 57 ensured that India were set a  351-run target. 
The task was cut out and not many teams would have fancied to chase down the target. But Sachin Tendulkar had different plans. What followed thereafter was a cricketing brilliance. Tendulkar-Sehwag began the chase with India notching 50 in 47 balls. Tendulkar's fifty also came in 47 balls. Tendulkar took 34 more balls to convert his fifty into a century. The wickets kept tumbling at the other end. Barring Suresh Raina's 59, Tendulkar got little support from anyone else. He went on to score 175 and it looked that India were well on course of a historic win. With 19 fours and four sixes, Tendulkar had turned the match single-handedly in India's favour. But with India's score reading 332, Tendulkar fell. India were all out for 347 giving Australia the match. It was heartbreak. Noted Hindi journalist Prabhash Joshi suffered a massive heart attack while watching the ODI. India lost the ODI as well as Prabhash Joshi but Tendulkar's 175 went down in cricketing history as one of the best ever ODI tons. 
(Picked by Himanshu Shekhar)
Sachin Tendulkar's Desert Storm (143 against Australia in Sharjah, 1998)
It is classified as one of the most daring attacks on a cricket field. If the battle of Saragarhi is one of the greatest last stands in military history then Sachin Tendulkar's innings in Sharjah on April 22, 1998, is an epitome of true individual brilliance. It was a day when Tendulkar's assault single-handedly made the mighty Australian bowling attack, including the likes of Damien Fleming, Michel Kasprowicz, Steve Waugh and spinner Shane Warne, resemble like club level theatrics. Though India lost the match, Tendulkar was the winner. Riding on the master blaster's knock of 143, India entered the final, outclassing New Zealand on a better run-rate. On April 24, in the final, it was again a Tendulkar show as he cracked 134 to help India defeat Australia and clinch the Coca-cola Cup. 
(Picked by Subhasish Dutta)
Sachin Tendulkar raises ODI cricket's first double century – 200* off 147 balls (2nd ODI (D/N), South Africa tour of India at Gwalior, Feb 24 2010)
Gwalior witnessed what many call an act of God. Never before anyone had scored a double-ton in a fifty-over format. It came against South Africa. India went on to score 401 as South African bowlers ran haplessly. Sachin was 36-year-old then and proved that age was just another number. It came against a formidable bowling line up and under intense humid conditions. The Little Master surpassed Saeed Anwar's 194 (highest ODI total until then) to reach a milestone that truly belonged to him. This was the time when many were questioning his form and fitness. Critics were sharpening their knife at Tendulkar and there were murmurs of handing over the spot to generation next but Tendulkar once again proved that his brilliance was not age-dependent. It was timeless. 
(Picked by Aditya Maheshwari)
Sachin Tendulkar 134 against Australia in Sharjah Cup final, 1998
Sharjah Cup 1998 is mostly remembered for the domination created by Sachin Tendulkar in the tournament. In the final of the Coca Cola Cup, Sachin celebrated 25th birthday in style with a match-winning knock against Australia to guide his team to a 6-wicket win. Mohammad Azharuddin won the toss and invited Australia to bat, the mighty Kangaroos put 272/9 on the scoreboard in the big ticket final. The stakes were high for the Indian team and then Master Blaster took the matter into his own hands to destroy Aussie bowling line-up which consisted of Michael Kasprowicz, Damien Flemming and Shane Warne among others. Tendulkar scored 134 runs off 131 balls which included 12 fours and three sixes before getting plumbed on Kasprowicz delivery.
(Picked by Brett Ellis) 
Sachin Tendulkar 98 against Pakistan, World Cup 2003
In the 2003 ICC World Cup, the stage was set for India and Pakistan to prove their supremacy but it was the Men in Blue who actually came on top in the end. Sachin Tendulkar's ferocious innings of 98 runs will always remain intact in every cricket lover's heart. Pakistan batted first and posted a competitive target of 273/7 with the help of Saeed Anwar's masterclass. Anwar smashed 101 runs in the mega event but it was Tendulkar's day. The way he hit Shoaib Akhtar left Pakistan bamboozled.  Sachin also picked up an injury during the inning but it didn't stop the fire inside him as he just took 75 balls to score 98 runs in the crucial clash. Master Blaster was the man of the tournament. A match-winning innings against Pakistan in World Cup is my favourite, so what it was just two-run short of a century. 
(Picked by Ranit Das)