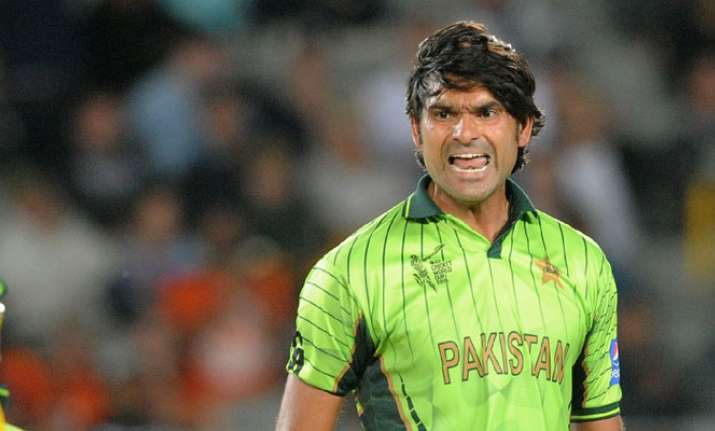 Charged with spot-fixing allegations for not reporting an incident when an alleged bookie approached him, Pakistan pacer Mohammad Irfan was today slapped with a one-year ban and fined USD 1,000 (Rs. 64,870) for violating the anti-corruption code during the Pakistan Super League. 
"You are aware that on March 14th the board called in and suspended me on the basis of two allegations, out of which I accept that it was my fault that I failed to let the board know when bookies approached me," Irfan said in a statement.
"PCB's code of conduct makes it clear that we have to report any such interaction immediately and I didn't do that," he added. 
"I am formally asking the nation for their forgiveness and hope that I will be pardoned by them." 
Top officials of the Board said they were satisfied that Irfan had not engaged in any malpractice and that his suspension was for failing to report the approach made to him. 
One official said the decision to suspend his contract for one year will be reviewed after six months at which point it may be restored. 
Irfan had earlier been suspended on March 14 after he appeared before the PCB's Anti-Corruption Unit after the PSL final in Lahore. 
It is also being reported that Irfan might have reached an agreement with the Board's ACU under which he has shown willingness to share all details off the spot-fixing scandal in the PSL and also point out the players and bookmakers involved in the racket. 
But so far neither the Board nor Irfan has commented on these reports. 
Irfan, during his meeting with the PCB ACU officials, claimed he was unable to report the approach made to him because he was mentally disturbed after the death of his mother who passed away when he was in Australia. 
Irfan also lost his father a few months back. 
The PCB has formed a three-member tribunal to hear the case against batsmen Khalid Latif and Sharjeel Khan who have been charged with spot-fixing in the PSL and trying to coax other players into the racket as well. 
Irfan, Khalid and Sharjeel all played for Islamabad United in the PSL. 
The seven foot tall Irfan made his international debut in 2010 and was the tallest-ever player to grace the game. 
He played four Tests and 20 Twenty20 internationals along with 60 one-day internationals, where he has taken 83 wickets at an average of 30.71.
(With inputs from PTI)