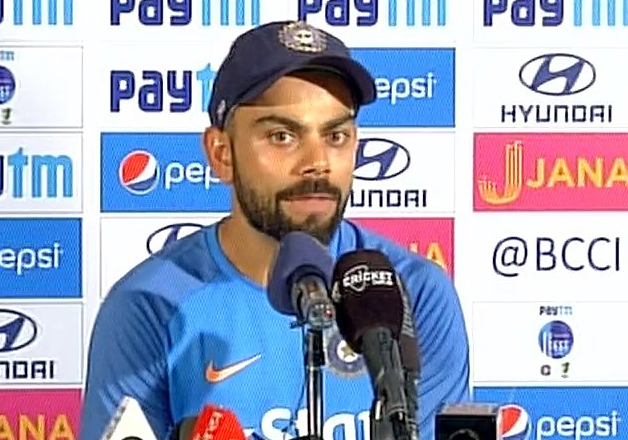 With the two top Test sides gearing up for high-voltage four-Test match series starting tomorrow, Indian skipper Virat Kohli today said that he was 'not worried about Australia's recent form and would rather bank on his team's strength'. 
At the pre-match press conference of the first Test, salted from tomorrow at Pune, Kohli said that his mantra was to focus and utilise his team members' strength against the world number 2 side.
"We tend to focus on our game. We respect every team but we focus on our skills and qualities," Kohli said. 
Riding high on a successful home season, the 28-year-old captain said that he was aware of the threats Australia possesses but reiterated that his players wouldn't be bogged down after winning 17 of their last 20 Tests. 
"We are aware of their skills, positive and negative points. But we are not bothered about the opposition too much. Every match is challenging, every series is challenging. All teams we play are of good quality," he said. 
Kohli also spoke about the probable banter that may take place considering the history. "We will not start anything, and if they poke us we will not shy away as well," he said.
While a lot of talk around India's spin bowler, Kohli said that it was the fast bowlers who were the prime reason for the team's success in this home season. 
"The players are up for it and that has been selfless cricketers and the fast bowlers are the prime contenders for it. They have stood out in the England series and against Bangladesh. Even in the New Zealand series they important roles and it has been a massive factor in winning those series," he said.
On a fairytale 19-match unbeaten streak, India would seek extension of their incredible dominance on home turf when they clash against an aggressive Australia in the four-Test series, beginning here tomorrow. 
The series against the Steve Smith-led side is the fourth and last home series of the 2016-17 season for India, who have conjured up emphatic victories over New Zealand (3-0), England (4-0) and Bangladesh (one-off Test). 
India are going into the rubber, seeking their seventh successive series win going back to the three-Test away series against Sri Lanka in 2015.