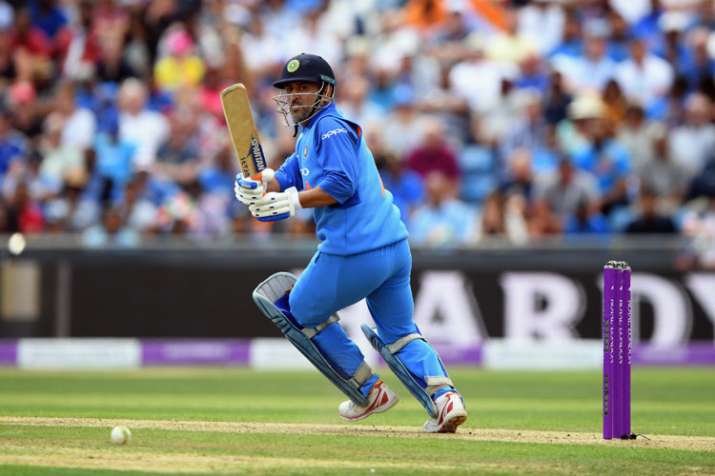 Former Team India captain Mahendra Singh Dhoni has finally spoken about his retirement plans. It was during the 3rd ODI between India and England, when Dhoni had taken the match ball from the umpires after hosts England beat India to win the three-match series 2-1.
Many speculations and fan-made theories suggested that it could have been the last time Dhoni donned the Indian jersey, as it was during the India-Australia Test series, when the wicketkeeper-batsman collected a wicket after drawing the third Test. It was at that time on December 30th, when Dhoni announced his retirement from Test cricket.
At the age of 37, Dhoni is still going strong and from what we witnessed in the 11th edition of the IPL, he isn't slowing down either. 
Dhoni opened up on his international future, making it clear that he is going nowhere till the 2019 World Cup in England.
On being asked why did he take the match ball from the umpire, Dhoni revealed that he was merely doing his homework for next year's mega event.
"(I took the ball) to see why we are not able to get enough reverse swing. Because we will be playing the World Cup in England, we have to (ensure) that we get reverse swing going. Because it is something that is very important. If the opposition is getting it, we should also get it, at some point or the other," Dhoni elaborated.
"After 50 overs, the ball is useless to the ICC (International Cricket Council), so I requested the umpire 'Can I get the ball and gave it to the bowling coach?'" 
"We need to work on it as to how we can get it more scuffed up so that we can get a bit of reverse swing going, that will in-turn help the fast bowlers get those yorkers or wickets in and around the 40th over mark. That would really help us restrict the opposition by not getting too many runs in the last 10 overs." 
With that piece of information out in the open, the Team India fans can surely expect Dhoni to be behind the stumps in the limited-overs format for now. 
The ODIs against England saw Dhoni being made the scapegoat as he couldn't get his form going. The former captain was slow in his innings and was unable to take singles when needed to, thus drawing out boos from the crowd at Lord's and Leeds. 
During the ODI series against England, Dhoni became the fourth Indian to cross the 10,000 run mark in ODI cricket and the second wicket-keeper as well to do so. He also became the first Indian to take 300 catches in ODI cricket. 
Dhoni, a.k.a 'Captain Cool', has been one of the most scrutinised yet loved cricketers for the Indian fans and he would be soon seen in action in September, when India play the Asia Cup.
(With PTI inputs)