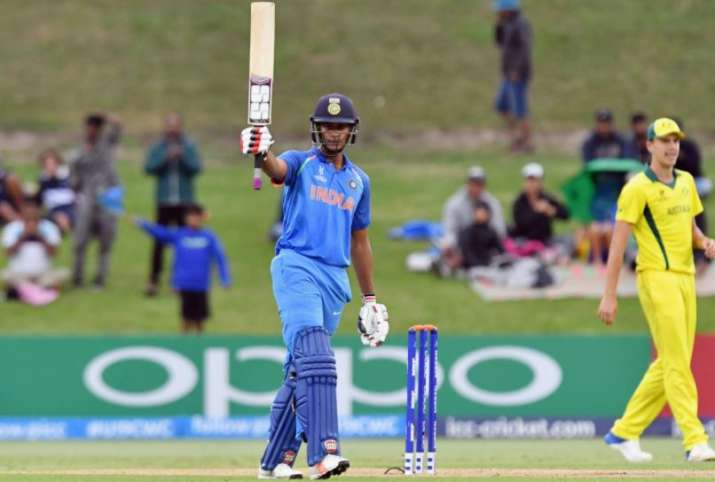 And that's a wrap for the ICC U-19 World Cup 2018 as India are crowned champions for the fourth time. The Prithvi Shaw led Team India beat Australia by 8 wickets to lift the trophy yet once again. Indian opener Manjot Kalra was superb throughout the innings and made his maiden unbeaten century in the finals.Prithvi Shaw, Harvik Desai and Shubman Gill contributed as well but it was Kalra who stood tall and rattled the Australian attacking unit with ease. The Indian bowlers did well as Anukul Roy, Kamlesh Nagarkoti, Ishan Porel and Shiva Singh collected two wickets each. Jonathan Merlo made a brilliant 76-run knock which helped the Australians reach a score plus 200. The Rahul Dravid led Team will go back with the silverware. Prithvi Shaw will now join the likes of Virat Kohli, Unmukt Chand and Mohammad Kaif.
HIGHLIGHTS, INDIA VS AUSTRALIA FROM MOUNT MAUNGANUI
Player of the Tournament: Shubman Gill
Player of the Match: Manjot Kalra
13.27 IST: Century for Manjot Kalra and a fourth win for India. Their fourth trophy as they defeat Australia by 8 wickets. India win the ICC U-19 Trophy for the fourth time.
13.20 IST: Dropped! Uppal drops a shot which was practically handed to him by Desai. Second time Desai has been dropped. IND 211/2 in 37.3 overs
13.18 IST: FOUR! Desai hits Sutherland for a boundary. Powerful and over the inner circle. IND 210/2 in 36.5 overs
13.12 IST: FOUR! 200 comes up for India and Desai is playing his shots at the moment. Manjot is four short of a ton. IND 200/2 in 35.2 overs
13.10 IST: FOUR! Desai steps up and manages to drive Pope's shot for a boundary. Just a 20 plus runs from clinching the trophy. IND 192/2 in 35 overs
13.04 IST: The batsmen play it slow at the moment as Uppal comes on to spin his spells. Dismissing Shubman Gill has cautioned the batsmen. IND 186/2 in 33.4 overs
12.53 IST: FOUR! Kalra goes ariel and smashes Merlo's delivery to just fall short of the big one. The opener needs 11 runs to make his maiden century. IND 176/2 in 31 overs
12.49 IST: SIX! A full toss and Kalra is not leaving that behind. Pope bowls a full toss and the opener knew what to do. IND 165/2 in 29 overs
12.45 IST: Dropped! Harvik Desai can consider himself luck as the fielder runs but doesn't judge the ball well enough. Uppal's delivery worked accordingly to the plan. IND 156/2 in 28 overs
12.43 IST: FOUR! Desai hits Uppal's delivery for a boundary. Chips it over the inner circle and collects four more runs. IND 155/2 in 27.2 overs
12.40 IST: FOUR! Another beautiful cut by Kalra as he stands tall to drive Hadley's short length delivery for a boundary. IND 149/2 in 26.3 overs
12.36 IST: 3 runs off Hadley's over as Kalra and Desai rotate strikes. IND 144/2 in 25 overs
12.30 IST: Harvi Desai comes in to bat as he tries his hand on helping Kalra chase the target. 
12.23 IST: OUT! Shubman Gill is walking back after his 31 runs as spinner Pram Uppal does the job dismiss one of the biggest threats. The Australians still have a chance but with Kalra around, the opener is going to take it slow. IND 135/2 in 22.2 overs
12.19 IST: FOUR! Kalra cuts it deep backward point. He is just punishing the wide off balls. IND 130/1 in 20.1 overs
12.18 IST: Fifty partnership comes up for the two on the second wicket. Kalra has eased in where as Gill aims for the shots. IND 125/1 in 20 overs
12.17 IST: Playing singles is helping India in their cause as the Australians feel the pressure soaking in. IND 124/1 in 20 overs
12.12 IST: Nearly! Gill nearly took off his own wickets but just short which still keeps him in play. IND 117/1 in 18.2 overs
12.10 IST: India still require 101 runs to win and the Australians are in all sorts at the moment. The pressure can be immensely seen on the Australian faces where as the Indian batsmen of Manjot Kalra and Shubman Gill look perfectly relaxed.
12.02 IST: Fifty up for Manjot Kalra. A good knock by the opener as he helps India in chase of a target. The dressing room stands and applauds along with the crowd as he has delivered a beautiful knock in the finals. IND 115/1 in 17.4 overs
12.01 IST: FOUR! Manjot is smashing a few shots and is one short of his half-century. IND 109/1 in 16.4 overs
11.57 IST: FOUR! Gill has driven the shot perfectly and hundred comes up for India. Manjot hangs on with 44 at the moment but he will get strike soon enough to make his fifty. IND 103/1 in 16 overs
11.52 IST: FOUR! Gill has read Pope's delivery pattern and punishes him with a powerful shot. There was a lot of Team India skipper Virat Kohli in that shot for sure. IND 95/1 in 14.5 overs
11.51 IST: Australians bring on the spinners and Pope opens up.
11.46 IST: SIX! Manjot Kalra takes his time for sure but is coming up with something extraordinary in this innings. A huge and massive shot by the opener. IND 86/1 in 13 overs
11.45 IST: FOUR! A good start for Shubman Gill as he cuts the delivery and a little bit of misfielding helps him and the score as well. IND 80/1 in 12.3 overs
11.44 IST: Shubman Gill comes in to bat and the Australians will have to do their best to dismiss this swashbuckler. 
11.41 IST: OUT! Will Sutherlands takes the big fish out of play. Skipper Prithvi Shaw is walking back for 29 after a good display. India need 146 runs to win. IND 71/1 in 11.4 overs
11.35 IST: FOUR! Another one! Third boundary of the over and Kalra cannot help himself. Full ball by Edwards and the opener smashes the delivery over mid-off. IND 69/0 in 10.4 overs
11.34 IST: FOUR! Kalra is making the most of the deliveries by Edwards as he his putting up an exhibition performance. IND 65/0 in 10.3 overs
11.33 IST: FOUR! Kalra times the shot perfectly as he cuts the ball over backwards off. IND 59/0 in 10.1 overs 
11.29 IST: Sutherlands manages to restrict Kalra as the opener is smashing a boundary in every over. IND 55/0 in 10 overs
11.26 IST: FOUR! Another one by the skipper as he drives the shot past the field covers once again. Fifty comes up for India. IND 52/0 in 9 overs
11.25 IST: FOUR! Pitched up delivery from Hadley and Prithvi Shaw drives it sweetly. Shaw is punishing such deliveries right now. IND 47/0 8.5 overs
11.22 IST: A squeezed cut past the slips and the batsmen get two runs. It seemed to go all the way down for a boundary, but the fielder slides down to ensure that does not happen. IND 41/0 in 8 overs
11.19 IST: FOUR! Swung by Kalra and he hits it hard. A good delivery by Evans but Kalra steps up and drives the shot in the air wide of the bowler and umpire. IND 37/0 in 7.1 overs
11.18 IST: Two off Bradley's over including a wide. A few slow balls and the inner circle is taking care of the shots being played by the batsmen. IND 33/0 in 7 overs
11.15 IST: Edged and just wide. With two slips in place the edge went between them and Shaw is lucky. IND 32/0 in 6.2 overs
11.11 IST: FOUR! A loose delivery from Evans and he is punished by the Indian skipper. Short and wide as he cuts down and sails away for a boundary. IND 31/0 in 5.3 overs
11.06 IST: Shaw and Kalra are doing well at the moment as the rain might have affected the conditions. IND 26/0 in 4.5 overs
11.03 IST: Good news, the rain has stopped and was just a passing shower. The Indian batsmen and the Australian players are back on the field as we resume play.
10.47 IST: 
Four overs into the India chase and rain has sadly arrived in Tauranga. The covers come on with India 23/0 ☔ #U19CWC#AUSvIND LIVE ➡️ https://t.co/BU9XqVZ41U pic.twitter.com/sQfSgzEM6x

— Cricket World Cup (@cricketworldcup) February 3, 2018
10.42 IST: RAIN STOPS PLAY
10.38 IST: SIX! That's a massive shot played by Manjot Kalra as he makes the most of the free hit. He steps up and smashed Zac's delivery way off into the stands. IND 21/0 in 3.4 overs
10.37 IST: No ball and a free hit for India as Zak Evans disturbed the bails during the delivery. 
10.31 IST: FOUR! The skipper gets the first boundary of the innings and a beautiful shot played deep mid wicket. IND 11/0 in 2.4 overs
10.26 IST: Prithvi Shaw and Manjot Kalra are out on the crease as they chase a target of 217 runs.
10.20 IST: And we're back with the second innings of the match and India need 216 runs to win. Let's see how it goes.
10.00 IST: INNINGS BREAK! We will be back shortly as the Indian batsmen gear up to chase 216 runs to win the finals of the ICC U-19 World Cup 2018.
09.54 IST: OUT! And that's a wrap for Australia. A series of wickets fallen in the past few overs. The Indian bowlers struck at times and have restricted Australia to 216 runs. AUS 216-allout
09.48 IST: OUT! Run out and Baxton J Holt is gone. A series of collapse for the Australians and the Indians manage to contain the batsmen well in the latter part of the game. AUS 216/9 in 46.3 overs
09.44 IST: OUT! Back to back and Kamlesh Nagarkoti gets Zak Evans. Clean bowled. AUS 214/8 in 46.1 overs
09.36 IST: OUT! Anukul Roy gets the big fish and Jonathan Merlo is back after helping Australia in a time where everyone else collapsed. AUS 212/7 in 45.2 overs
09.31 IST: Nagarkoti is toying around with slow and fast balls and the batsmen are surely surprised. Smart move by the pacer/
09.31 IST: Major slip ups from the Indian team as the wicketkeeper had the chance to make a run out happen but opts to throw the ball without looking. A wicket could have been in hand. AUS 205/6 in 43.3 overs
09.27 IST: 200 up for Australia. Merlo has been outstanding and continues to further torment the Indians despite the Men in Blue collecting two wickets recently. AUS 201/5 in 42.4 overs
09.25 IST: OUT! Shiva Singh collects his second wicket an all-rounder Will Sutherland is back in the pavilion for 5. AUS 191/6 in 41.3 overs
09.18 IST: FOUR! Misfield by the player as he could not get a hand to the ball. A free boundary for the Australians. AUS 190/5 in 40.5 overs
09.13 IST: OUT! Shiva Singh collects his wicket and out goes Nathan McSweeney for 23. Australia have been playing it slow so far but India now place the pressure right back on the batsmen. AUS 183/5 in 39.2 overs
09.10 IST: Up in the air and a great opportunity for the Men in Blue but a chance waisted as the wicket-keeper could not get under the ball in time. AUS 179/4 in 38.6 overs
09.04 IST: Australia play it slow and seems to be under control. Merlo has as well eased down and has grounded his shots quite a lot. Nathan McSweeney is doing exactly what he has been told to do. AUS 174/4 in 38 overs
08.56 IST: FOUR! Sweep by Merlo once again and he has been playing these shots very well. No leg side fielders in sight and Merlo takes advantage. AUS 167/4 in 35.2 overs
08.52 IST: The fourth wicket of the Australian batsmen have matters in control as Merlo in particular seems to ease past the seamers and spinners combined. AUS 163/4 in 35 overs
08.44 IST: Ishan Porel back in the attacking as the skipper makes a few changes.
08.38 IST: FIfty up for Johnathan Merlo. Was under pressure throughout but has managed to stick on. Great innings by the player. AUS 151/4 in 32 overs
Jonathan Merlo brings up a half-century off 60 balls - both his first fifty of #U19CWC and in U19 ODIs! 👏#AUSvIND LIVE ➡️ https://t.co/BU9XqVZ41U pic.twitter.com/KlmD4ohoVq

— Cricket World Cup (@cricketworldcup) February 3, 2018
08.35 IST: FOUR! Nathan finds the gap and a backfoot shot helps him with ease. AUS 150/4 in 30. 4 overs
08.28 IST: OUT! Anukul Roy gets his man and a superb length by the spinner does the trick. Roy bowls and catches the shot straight at him and a threatening Param Uppal is back in the pavilion. AUS 134/4 in 28.5  overs
08.22 IST: Merlo and Uppal have hung on well after the openers went for a different toss. The duo have managed to stick on but the pressure still mounts as Prithvi Shaw plays between Spin and Seamers.
08.19 IST: FOUR! Another boundary and another sweep by Merlo as he continues to torture the spinners. AUS 126/3 in 26.1 overs
08.13 IST: FOUR! Shift to the off stump and a great sweep by Merlo. The spinners aren't justifying their role at the moment. AUS 116/3 in 24.2 overs
08.10 IST: FOUR! And a Fifty partnership comes up for the fourth wicket and Uppal plays the shot on the backfoot once again to find the gap, cuts it through behind point. AUS 110/3 in 23.1 overs
08.05 IST: FOUR! Merlo finds his way as the spinners pressurize but the middle order batsman flights it outside off. Hundred comes up for Australia as Merlo and Uppal play it slow. AUS 102/3 in 21.3 overs
08.02 IST: Outside edge delivers and three runs off Anukul Roy's over. AUS 97/3 in 21 overs
07.59 IST: Abhishek Sharma comes in to bowl with his spin. 
07.54 IST: WIDE! A bouncer by Nagarkoti and the seamer is just isn't able to find his rhythm at the moment as this is the second wide off the over. AUS 87/3 in 18 overs
07.52 IST: FOUR! Great shot from Param Uppal as Nagarkoti's delivery had no faults but Uppla played it beautifully. AUS 86/3 in 17.4 overs
07.43 IST: FOUR! Uppal finds space and deep backward for a boundary. Crunched off the backfoot and finds space he has been looking for a Nagarkoti's delivery is surely pressurizing the batsmen. AUS 78/3 in 15.5 overs
07.38 IST: Spinners are brought on from the 14th over.
07.35 IST: FOUR! Short length by Nagarkoti and Merlo makes the most of it with a nice cut through cover point. AUS 67/3 in 13.3 overs
07.29 IST: OUT! Kamlesh Nagarkoti gets his man and its the Australian skipper Jason Sangha. India now seem to have them under pressure. AUS 59/3 in 11.4 overs
Three down! It's captain Jason Sangha who departs, Nagarkoti finding the outside edge, Harvik Desai behind the stumps taking a brilliant diving catch! Australia 59/3 #U19CWC #AUSvIND LIVE ➡️ https://t.co/BU9XqVZ41U pic.twitter.com/4J5a52WEr7

— Cricket World Cup (@cricketworldcup) February 3, 2018
07.25 IST: FOUR! Sangha got offside of the delivery and plays a beautiful shot down fine leg. AUS 59/2 in 11.4 overs
07.21 IST: OUT! Porel removes Edwards. The opener was looking dangerous but a short delivery and straight into the hands of Kamlesh Nagarkoti. India have removed the two openers. AUS 53/2 in 10 overs
Australia lose their second wicket! Jack Edwards plays an uppish drive into the hands of Nagarkoti, Porel has his second victim! Australia 52/2 after 10 overs #U19CWC #AUSvIND LIVE ➡️ https://t.co/BU9XqVZ41U pic.twitter.com/dj3rTo0KGq

— Cricket World Cup (@cricketworldcup) February 3, 2018
07.17 IST: Up in the air and crosses the inner ring. Safe and Fifty up for Australia. AUS 51/1 in 9.4 overs
07.15 IST: Overthrow and the Australian batsmen get three extra runs. AUS 49/1 in 9.2 overs
07.11 IST: Good length by Mavi and a maiden over comes his way. AUS 46/1 in 9 overs
07.08 IST: Three runs as Edwards strides down, the fielder does brilliantly but Australia are off to flyer despite losing Bryant. AUS 46/1 in 8 overs
07.07 IST: Mavi has been quite expensive so far, 30 off 4 overs as the Australians are stepping up to his short balls.
07.03 IST: FOUR! Another one and Edwards hits it hard and fell just short off the big one. AUS 41/1 in 6.2 overs
07.01 IST: FOUR! Edwards plays it nice and slow to long off. AUS 36/1 in 6.1 overs
06.57 IST: OUT! Porel removes Max Bryant for 14. Abhishek Sharma is there and a brilliant catch to dismiss Bryant.  AUS 32/1 in 5.1 overs
06.53 IST: FOUR!  Edged an just over the wicketkeeper. Mavi has had an expensive over so far. With no slip fielder in sight, it was a huge advantage for the openers. AUS 32/0 in 5 overs
06.52 IST: FOUR! Power smash by Edwards to long on. AUS 24/0 in 4.2 overs
06.48 IST: FOUR! Clipped and down for a boundary. What seemed like a maiden over for Porel saw Bryant clip the ball above deep mid wicket. AUS 20/0 in 3.6 overs
06.45 IST: FOUR! Bryant steps up and hits Mavi's delivery for a boundary. Quite gutsy! AUS 12/0 in 2.6 overs
06.44 IST: Just four runs off the over as Porel bowls a few yorkers and short length balls. Mavi comes back on. AUS 6/0 in 2 overs
06.42 IST: FOUR!  Bryant hits Porel's short ball for a boundary. AUS 6/0 in 1.4 overs
06.40 IST: Good over by Mavi. One off the over as the batsmen are seen testing the ball. Ishan Porel comes into the attack for India.
06.35 IST: Jack Edwards and Max Bryant open for Australia while Shivam Mavi starts with the bowling for India. And we commence with the finals from here on.
Here they go! Shivam Mavi is opening the bowling to Jack Edwards and Max Bryant! #U19CWC #AUSvIND LIVE ➡️ https://t.co/BU9XqVZ41U pic.twitter.com/RQbSjxT3g9

— Cricket World Cup (@cricketworldcup) February 3, 2018
06.10 IST: And here's what the two line-ups look like.
Squads
India U19 (Playing XI): Prithvi Shaw(c), Manjot Kalra, Shubman Gill, Harvik Desai(w), Riyan Parag, Abhishek Sharma, Anukul Roy, Kamlesh Nagarkoti, Shivam Mavi, Shiva Singh, Ishan Porel
Australia U19 (Playing XI): Jack Edwards, Max Bryant, Jason Sangha(c), Jonathan Merlo, Param Uppal, Nathan McSweeney, Will Sutherland, Baxter J Holt(w), Zak Evans, Ryan Hadley, Lloyd Pope
06.00 IST: Australia have won the toss and opted to bat first. The Prithvi Shaw led side will have to rely on their attacking unit from here on.
Australia win the toss and bat first in the #U19CWC final against India at Bay Oval, Tauranga!#AUSvIND LIVE ➡️ https://t.co/BU9XqVZ41U pic.twitter.com/4a15rhCCDh

— Cricket World Cup (@cricketworldcup) February 3, 2018
06.00 IST: 
West Indies' Alick Athanaze currently leads the #U19CWC run scorers' table, but will Shubman Gill overtake him at the top with a big score in the final? #AUSvIND #howzstat pic.twitter.com/g6TtNsM3sr

— Cricket World Cup (@cricketworldcup) February 2, 2018
05.56 IST: 
#TeamIndia Skipper @imVkohli's message for the #BoysInBlue as they gear up for the #U19CWC Final tomorrow. pic.twitter.com/cUb8E02w2P

— BCCI (@BCCI) February 2, 2018
05.55 IST: 
"If we can get the win it'll be one of the best days of my life."

Australia and India's players look forward to tomorrow's #U19CWC Final in Tauranga! #AUSvIND pic.twitter.com/efC3uSW8mR

— Cricket World Cup (@cricketworldcup) February 2, 2018
05.45 IST: 
We're through to the #U19CWC Final! pic.twitter.com/xFrRhxocm5

— Cricket Aus Pathway (@CAPathway) January 29, 2018
05.35 IST: 
We've got a #U19CWC squad change ahead of tomorrow's final. Victoria keeper-batsman Patrick Rowe comes in for Western Australia all-rounder Aaron Hardie, who has been ruled out due to injury. pic.twitter.com/evECm55FRQ

— Cricket Aus Pathway (@CAPathway) February 2, 2018
05.30 IST: 
As the two U19 Captains pose with the glistening silverware, who do you think will emerge victorious in this last and final stage of the tournament tomorrow? #U19WC pic.twitter.com/A9APX2zCs5

— BCCI (@BCCI) February 2, 2018
BRIEF PREVIEW: Under the captaincy of Prithvi Shaw, Rahul Dravid-coached India will look to rewrite history books with a fourth title when they face an equally formidable Australia in the final of the ICC Under-19 World Cup in New Zealand on Saturday. Having won the coveted trophy thrice each, India and Australia are the two most successful teams in the history of the tournament. But on Saturday, Dravid's sprightly boys will be desperate to outwit their Australian counterparts and become the first team in the history of the event to lift the trophy for a record fourth time.
The promising Prithvi, already being seen as the next big thing in Indian cricket, will be eager to join the likes of Mohammad Kaif (2002), Virat Kohli (2008) and Unmukt Chand (2012) in leading the side to the U-19 World Cup title. (Read Full Preview Here)
MATCH FACTS:
When: Saturday, February 3, 2018 - 6.30 AM IST
Where: Bay Oval, Mount Maunganui
Weather: It is expected to stay pleasant at Bay Oval, Mount Maunganui with times of sunshine cloud.
SQUADS:
India U-19: Prithvi Shaw (C), Manjot Kalra, Shubman Gill, Harvik Desai (WK), Riyan Parag, Abhishek Sharma, Anukul Roy, Kamlesh Nagarkoti, Shivam Mavi, Shiva Singh, Ishan Porel, Himanshu Rana, Aryan Juyal, Arshdeep Singh, Pankaj Yadav, Aditya Thakare
Australia U-19: Jack Edwards, Max Bryant, Jason Sangha (C), Jonathan Merlo, Param Uppal, Nathan McSweeney, Will Sutherland, Baxter J Holt(WK), Zak Evans, Ryan Hadley, Lloyd Pope, Xavier Bartlett, Jarrod Freeman, Aaron Hardie, Austin Waugh