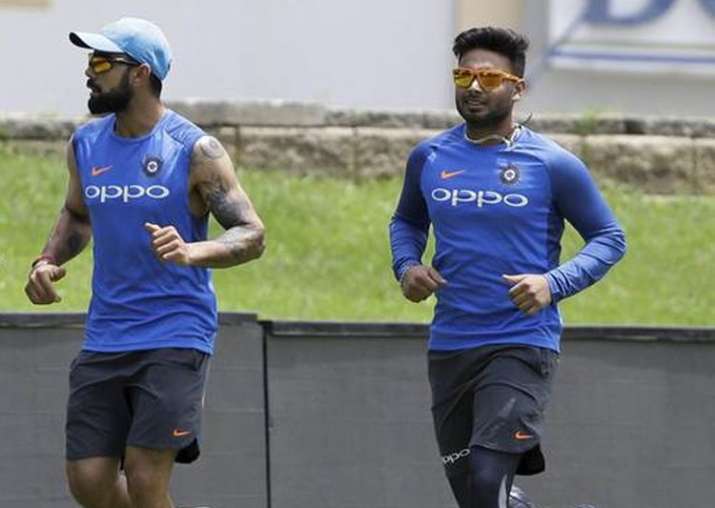 As No.1 Test team India gear up for a two-match Test series against West Indies at home, young wicketkeeper-batsman Rishabh Pant has set his sights on the opportunity to improve himself in every department.
"I try to improve myself in every department. Be it wicketkeeping or batting, one trains only to improve," Pant told IndiaTV during the show 'Cricket Ki Baat'. (WATCH: Dhoni's presence doubles the confidence)
Under the captaincy of Virat Kohli, India rose to the top of the ICC Test team rankings, following a successful home season last year. Recently, they lost the five-match Test series 4-1 to England, though 20-year-old Pant was the find of the tough tour.
Scoring a fighting ton in the fifth and final Test at the Oval, Pant displayed his fearless approach in batting and managed to replace Dinesh Karthik despite an unimpressive job behind the stumps.
Recalling his 146-ball 114, which he scored in the fourth innings, Pant said: "I play according to the merit of the ball. It's important to back your natural game but you have to keep the situation in mind too. As I scored a century in the last match, it came after 150-odd deliveries. You can't play every ball aggressively." (ALSO READ: Pant is perfect to take over after Dhoni's retirement, says Sehwag)
Despite India's 118-run loss at the Oval, captain Kohli was full of praise for fellow Delhi batsman. "Pant showed a lot of grit and character. We have character in the team and we just need some experience to close out games. I was thinking when I was watching him (Pant), when you get into a zone and when you are not thinking about the result, things go your way. It was just a great preview of what is in store for him individually and for Indian cricket," Kohli had said in the post-match presentation.
Pant said such praising words from the captain help a youngster gain confidence. "As a youngster, it feels good when your captain backs you. It builds your confidence. I will look to capitalise on the opportunities I get in future after a Test ton in England."
He revealed how Kohli shares his experiences to help them avoid mistakes initially in their career. "Virat Kohli shares his experiences with youngsters to boost their confidence. He tells us how we can overcome mistakes at an early stage," Pant said. (WATCH: Pant's fighting knock is commendable, says Ganguly)
India squad for West Indies Tests: Virat Kohli (c), KL Rahul, Prithvi Shaw, Mayank Agarwal, Cheteshwar Pujara, Ajinkya Rahane, Hanuma Vihari, Rishabh Pant, Ravichandran Ashwin, Ravindra Jadeja, Kuldeep Yadav, Mohammed Shami, Umesh Yadav, Mohammed Siraj, Shardul Thakur
(As told to IndiaTV Sports Correspondent Vaibhav Bhola)