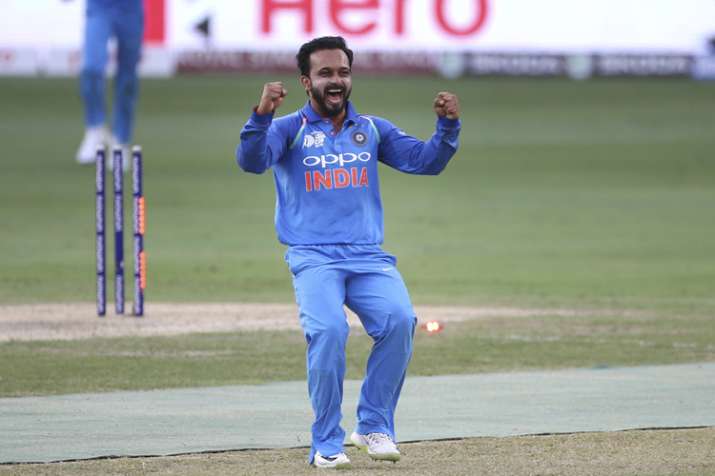 Moments after the India squad for the remaining three ODIs against West Indies was made public on Thursday by the Board of Control for Cricket in India (BCCI), a few eyebrows were raised as the squad a glaring exclusion. The 15-member squad did not include 'fit-again' all-rounder Kedar Jadhav.
Unhappy with his omission, Jadhav did not mince words and said there was no communication over his exclusion from the Indian team. However, it prompted chief selector MSK Prasad to say that the batsman was not picked because of his injury prone past.
Jadhav had made a comeback during the Asia Cup last month but the recurrence of the hamstring injury in the final led to another round of rehab.
Jadhav was drafted into the India A side midway into the Deodhar Trophy as the selectors wanted to assess his fitness before taking a call on his comeback.
In the presence of three national selectors, Jadhav made his case with an unbeaten 41 off 25 as well as sent down five overs but the ODI team announced during the course of the Deodhar game didn't figure the Maharashtra player.
"I did not know this," said Jadhav when asked if there was any communication over his selection for the remaining three games against the West Indies.
"Let's see. You are the first one to tell me this. I need to see why they have not picked me. I don't know what the plan is now that I am not there in the team. Probably, I will be playing the Ranji Trophy," said the 33-year-old from Pune.
In selectors' defence, Prasad said they needed Jadhav to play more domestic games before deciding on his comeback.
"We did not pick Kedar because of his history of fitness. There have been occasions earlier when he has come back fit and then broke down, a case in point being the Asia Cup last month," Prasad told PTI.
"Actually, we were thinking that if India A won today, then Kedar would have got another match, which would have given us a fair assessment of his match fitness. May be we could have added him as an additional player (in Indian team) before the fourth ODI as the Deodhar final is on Saturday. Players need to understand that there is a process that we follow while selecting the team," Prasad added.
Jadhav's comments come in the wake of heavy criticism faced by the selectors for lack of communication with players before dropping them.
Karun Nair and Murali Vijay had said they were not spoken to by the selectors before being dropped from the Test squad, a claim that chief selector Prasad has denied.
Jadhav had made a comeback during the Asia Cup last month but the recurrence of the hamstring injury in the final led to another round of rehab.
Without mincing words, Jadhav said it hurts when one keeps getting injured when he is playing well.
"Rehab was good. I passed all the tests and came here match fit. It is all fine. Obviously, it hurts when you are in form and get injured. It creates uncertainty on when you will get the next opportunity. And when you comeback, you have to start from scratch again as you end up missing a lot of matches. It hurts but you have to accept it and move on," he said.