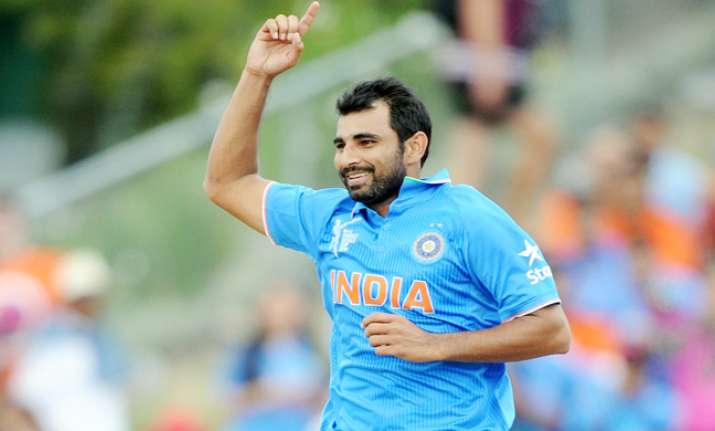 Ahead of India's much-awaited limited-overs series against Australia, fast bowler Mohammed Shami said Steve Smith and Co. will get an appropriate reply every time they try and sledge the Indian players. The rivalry between India and Australia has fired up in recent times, involving many intense moments that have made their way to the cricketing folklore.   
Earlier this year, Australia suffered a 1-2 series loss in the four-Test Border-Gavaskar series in India. And a lot of times, there were some on-field incidents which spiced up the entire contest.
Given their history, it is inevitable that tempers will flare between the two sides, led by two young and aggressive captains - Virat Kohli and Steve Smith - when they meet in Chennai for the first ODI on September 17.
Shami said sledging was a part of the game and is an important tactic to break the focus of the opposition.
"Sledging is a part of the game. When your opposition has struck a partnership in the game, you sledge the batsmen to break their focus. This comes from naturally. We sledge but never using bad words. Sledging is very important when you have to dismiss a set batsman or break a partnership," Shami told India TV in an exclusive chat.
The 27-year-old pacer, who was on Sunday named in 16-member squad for the first three ODIs against Australia, said his team was ready to take on the "Australian sledging".
"We are 100 per cent ready to take on the Australian sledging. If they sledge us, they will get the appropriate reply. It will be a tit for tat reply," Shami said.
Shami said he was confident of winning the series against Australia. 
"I think we are performing well from the past few series. We just clean swept Sri Lanka. We are confident of winning the series," he said.
When asked if he has a particular plan for any of the Australian batsmen, Shami said: "I have never planned against any particular batsman. I am just focussed on my basics."