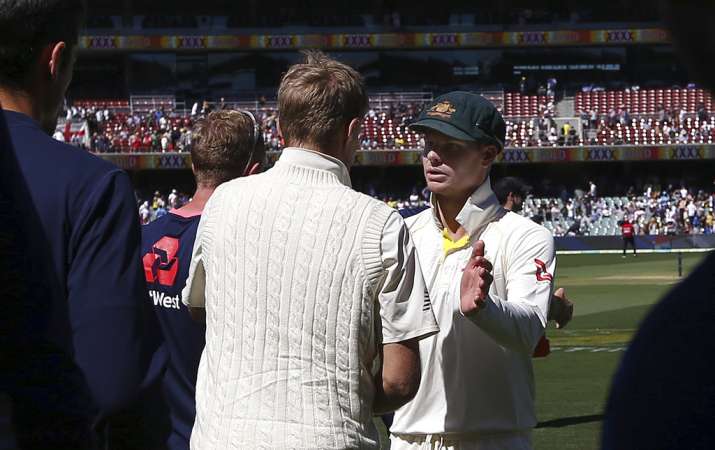 Steve Smith was so worried about a captain's call that backfired that he needed a sleeping pill to get some rest during the inaugural day-night Ashes test.
His Australian team was completely in control when Smith made the decision not to enforce a follow-on against England on the third day, a choice that was heavily criticized when England rallied quickly to give themselves an outside chance of an historic come-from-behind win.
He also dropped a catch, wasted Australia's two referrals to the TV umpire and didn't refer an umpiring decision that in hindsight he should have.
But just as quickly as the threat emerged, it evaporated Wednesday when pacemen Josh Hazlewood and Mitchell Starc took five of the six wickets needed to usher Australia to a 120-run win in Adelaide and a 2-0 lead in the best-of-five test series.
"I had to have a sleeping pill last night. It has been a pretty tough 24 hours if I'm being honest," Smith said after Australia completed the win with two sessions to spare. "It's all part of being captain of your country. You have to make difficult decisions and sometimes you're going to make the wrong decision.
"I'll think back and reflect over the next day or so and think what I could have perhaps done differently and could have done better, and areas that I can continue to improve in my leadership."
Smith didn't consult his fast bowlers on Monday night before decided they'd be better served resting while the Australian batsmen went out and tried to build a big lead.
It was anything but a restful time for Smith, though, as he was one of the four top-order batsmen who failed as Australia slipped to 53-4 by stumps on the middle day. Jimmy Anderson, who took two wickets in the night session, added another three on day four and Australia was out for 138, leaving England five sessions to score 354 runs for victory.
Australia's bowling coach David Saker said at the time that it may have been better to just to stay on the attack.
"Maybe we got it wrong," he said. "At the end of the test match we will review that."
Smith later explained that running the England bowlers ragged, if possible, was just as important in a long series as preserving his own attack.
He'll no doubt sleep more easily after the win, which followed Australia's 10-wicket victory in the series opener last week in Brisbane and gives his team a chance to regain the old urn in the third test starting next week in Perth.
"Fortunately, we're able to hang in there and get the result we were after," Smith said of his follow-on decision. "It doesn't make any difference anymore."
England captain Joe Root's decision to send Australia in to bat after winning the toss in Adelaide was also heavily scrutinized. But he stuck by the call.
"There are lots of things that you look back on and maybe do differently, but that wasn't one of them," Root said.
"I don't actually (regret it), you want to give your bowlers the best chance to take 10 wickets and in those conditions with the quality that we have I fully expected those guys to take 10 wickets."