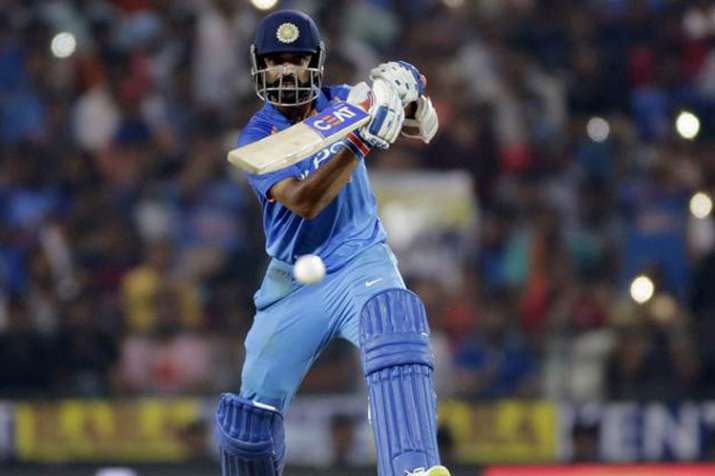 Ajinkya Rahane remains an important part of India's Test set up but the experienced batsman has continued to be ignored for the shorter formats of the game.
A player with 90 ODIs under his belt, last featured in one at Centurion against South Africa on February 16, 2018. His last T20 in India colours came in 2016 against West Indies at Lauderhill and the veteran feels that he should be given a consistent run in limited-overs cricket to prove his importance.
"I am aggressive as a batsman but by nature I am an introvert. I don't like to talk too much, I prefer to let my bat speak but sometimes it's important to speak the truth. I have believed the team always comes first and I have always respected the team management and the selectors' decision and I will continue to do that.
"But in the end, it is important that the effort that I am putting in is acknowledged. As a player, I feel everyone needs consistent chances to do well for the team," Rahane told The Hindu.
Rahane did fairly well as an opener against West Indies and at home versus Australia but in South Africa, he was pushed to the middle-order in order to find a solution to the middle-muddle and that didn't go down too well and he was eventually axed from the team as the management continue to try different players with just three months left to the World Cup.
When asked, if he felt a little let down, he said: "If I feel let down, my mindset will turn negative, so I don't really think that way. I leave that decision to the selectors because they are the best judges. But at the same time I also believe that my performances were really good. If you see the last three-four series, my average was around 45 to 50. After that I was dropped. I went back to domestic cricket and I feel I have done reasonably well. I don't think about being let down because I want to remain positive and not get into a negative zone."
The Mumbaikar continues to be a team man despite the snubs and hopes to help his team win matches but adds that he should be given chances consistently to prove his case in the national team.
"I have always thought the country and the team comes first. Even when I played for Mumbai I started off an as opener, but when the team wanted me to bat at No. 3, I agreed and accepted the challenge. So I don't think I will ever ask for anything except the team's cause. Having said that, though, the point that I am trying to make here is that if as a player I have always been committed to the team's cause, then I deserve chances more consistently. That's the least I am asking for," Rahane, who is leading Mumbai in the Syed Mushtaq Ali Trophy currently, said. 
There is a growing perception that the snub from limited-overs cricket has affected his form in the longest format of the game but Rahane feels that it is not the case.
"Frankly, I never think about my personal achievements. But every individual needs confidence and positive vibes like "yes, you are there and you are doing it for the team". I think everyone knows that if someone is backing you, the player gets the confidence to play fearless and positive cricket. Having said that, though, I don't think my game in Tests is getting affected," he clarified.
The 30-year-old however, is still hoping for a place in the World Cup squad.
"Things can change anytime. And like every player even I harbour dreams of playing in the World Cup. So yeah, I am hopeful," he said