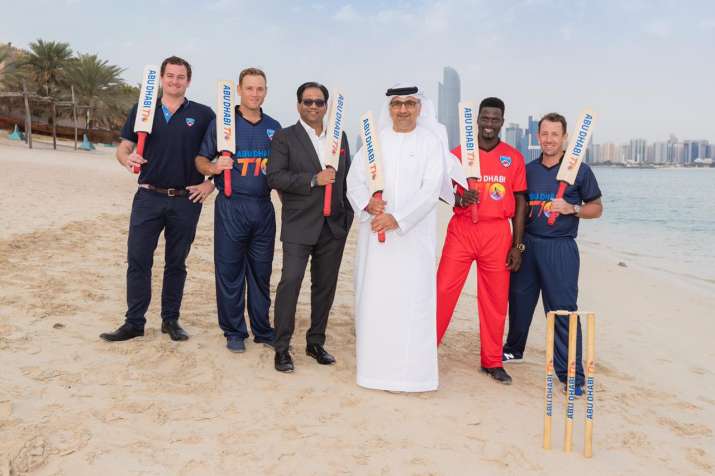 Abu Dhabi will be the new home of T10 cricket league for the next five years, starting with the 2019 season.
Abu Dhabi Cricket has signed a five-year agreement with the organisers of the T10 League. The shortest form of the game will now be played at the Zayed Cricket Stadium.
"T10 is fast, punchy, exciting cricket, making it perfect viewing for those of us living in the UAE," said Aref Al Awani, General Secretary of Abu Dhabi Sports Council.
T10, in which only 120 balls are played in a fast-paced 90 minute game, was first introduced to the UAE in 2017. With eight squads vying for victory in games with an explosive pace, players featured have included Chris Gayle, Shoaib Malik, Shane Watson and Pakistan captain Sarfraz Ahmed.
Shaji Ul Mulk, Chairman of the T10 League, said: "T10 has landed onto the global cricket scene, and this combined partnership with Abu Dhabi Sports Council, DCT Abu Dhabi and Abu Dhabi Cricket gives T10 a major boost in establishing itself as a credible international form of the game. We are very pleased to be moving to Zayed Cricket Stadium, as we take one of the world's most exciting sporting cities by storm. The third season of T10 cricket will allow over 100,000 fans the chance to see some of the biggest names in cricket battle it out on the pitch over 90 fast minutes of action."
Australian cricketer Shane Watson, who will captain the Deccan Gladiators, commented: "T10 is one of the fastest evolving forms of cricket, and fans obviously love it. The move of the league to Abu Dhabi is a great idea – the pitches in Abu Dhabi are beautifully maintained, and as I've mentioned before, the conditions are the closest to those in Australia. I can't wait for T10 and November can't come quickly enough."
South African cricketer Colin Ingram, who plays for Pakhtoon, said: "T10 is the cutting edge of the sport: the games are fiery, fast and furious as we battle it out in the middle in a quick hour and a half. It's been great to be part of the league to this part, and I can't wait to be back playing again in the new home of T10 Cricket at Zayed Cricket Stadium, Abu Dhabi."
Luke Ronchi, the New Zealand cricketer who plays for Punjabi Legends, commented: "I can't wait to be back at one of the best stadiums in the UAE. The quality of cricket in this country is superb, and T10 is the latest proof of that."
The first match of the T10 League 2019 will be on 23 October 2019.