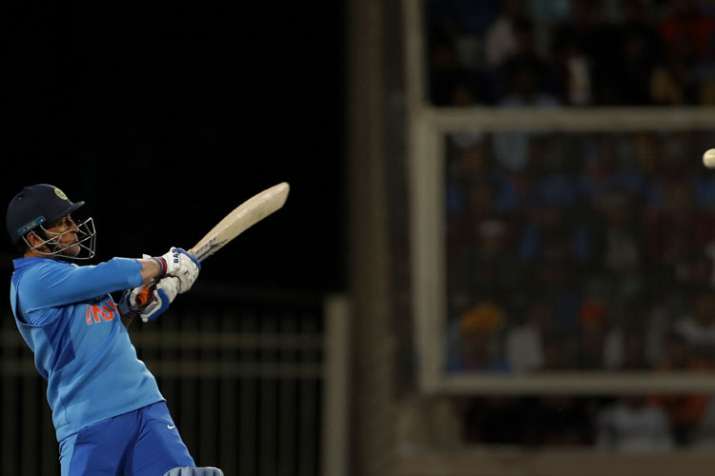 Mahendra Singh Dhoni probably played his last ODI innings in his home ground at Ranchi but he made sure that he entertained the crowd before leaving.
Dhoni scaled new heights on Friday and also affected a classy run-out while fielding as well in the third ODI against Australia in the five-match series.
During his 42-ball innings of 26 in India's 314 chase, Dhoni hit one six and two boundaries but overtook Rohit Sharma to become the Indian to hit the highest number of sixes in ODI cricket.
Dhoni now has smashed 217 maximums from 341 one-day internationals and hit 10500 runs. After Dhoni, Rohit has smashed the most number of sixes -- 216. Rohit is followed by Sachin Tendulkar (195), Sourav Ganguly (189), Yuvraj Singh (153) and Virender Sehwag (131).
 
Earlier in the day, the 37-year-old also showed why he is the best keeper in the world and why he is so special.
Dhoni and Jadeja combined in the field to run-out Glenn Maxwell, who was going strong. Kuldeep bowled it short and outside off, Marsh went back and slapped it hard towards cover and set off for a run and called for two. Jadeja first dived to his right and stopped it, not cleanly but he recovered well and fired the ball to the keeper. Dhoni nonchalantly flicked it onto the stumps and appealed. The umpire took it upstairs and replays showed that Maxwell had to take the long walk back. 
The crowd erupted and the Indians were ecstatic as Maxwell was striking the ball really well.
However, Australia did manage to get past the 300-run mark and scored 313/5 from their 50 overs thanks to Usman Khawaja's maiden ODI century and Aaron Finch's 93 from 99 balls.