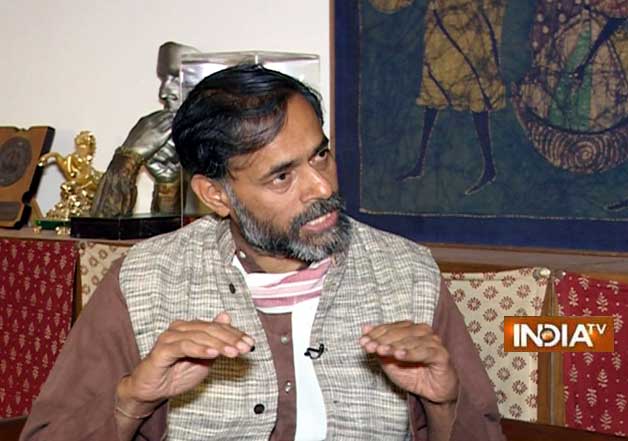 Delhi govt v/s Central govt
Q:  How do you look at the ugly war that is going on between Delhi government of AAP and central government of BJP? The bureaucracy is completely demoralised and one can see how Delhi Police Commissioner and Delhi Chief Minister are taking pot-shots at each other every other day?    
Yogendra Yadav:  I think what we have is a very irresponsible game being played both by the BJP and Aam Aadmi Party.
BJP central government must take its blame. It is one of the most irresponsible ways of treating a state government. They have used the LG not as an instrument, not only of the centre, but of the ruling party. Aam Aadmi Party, instead of handling it in a more mature way, has started enjoying it. They have started participating in this game. And both BJP and AAP are playing Kho-Kho.
Q: Do you believe that instead of indulging in daily face-offs with the central government, Arvind Kejriwal should fight a political battle demanding full statehood for Delhi?   
 
Yogendra Yadav:   As I said, we have a very unusual constitutional position for which both BJP and Aam aadmi Party are fully to be blamed.
 I do believe that BJP has gone out of its way to create obstacles for the new government. I do think that the CBI is not playing a straight game, I do think that LG has allowed his office to deteriorate into an instrument of the ruling party at the centre.
At the same time, I do think that Aam Aadmi Party government in Delhi has equally participated in this blame game. I do think that they relish this opportunity of passing on the blame to someone else rather than face the difficult task of governance. Therefore, in this situation, some solution has to be found. May be, it'll come from judiciary because both these parties are in no mood to play any responsible role. May be, the people will step in at some point and teach both of them a lesson.  
I personally feel that the demand for full statehood of Delhi is a completely justified demand but yes, it has to be a political battle which has to be fought carefully. The fact is that BJP has supported this demand for 20 years in every single manifesto. Now BJP is going back on it. It's nothing but 'crass opportunism' of the worst variety.
You do not fulfil that demand by holding a press conference against the central government every day. The only way to respond to that is a mature and democratic way. This country has seen federal tensions and federal negotiations but this is no way to negotiate.
Performance of Narendra Modi govt
Q: Narendra Modi government is also going to complete 2 years in May. How do you rate the performance of his government? Do you believe Modi has done justice to the expectations of the people of India?
Yogendra Yadav:    Two years is not sufficient but certainly more time than one year to be able to judg. Here again, if you ask me if this government has done more than the Congress government in its last two years, may be, yes. But is this the government people of India voted for? Certainly not.  
What is particularly shocking for me is the manner in which this government has compromised with corruption. More and more skeletons are about to stumble out.
What is shocking for me is how anti-farmer this government is. Independent India has never witnessed a government which is more anti-farmer than the Modi government. How anti-labour this government is, how anti-dalit this government's real policies are and how anti-environment this government is?  These are the things that would affect this government in long run.  I do believe that Mr Modi has failed to live up to the larger hopes that the people of India had posed in him.  
Ishrat Jahan Encounter
Q: After David Headley's disclosure that Ishrat Jahan was a suicide bomber of LeT, do you believe that all those politicians who used to defend her should now apologise because any kind of support for 'minority communalism' only boosts 'majority communalism'.
Yogendra Yadav:    If it is proven that Ishrat Jahan was a paid agent of Pakistan, even then should we not have enquiry about fake encounters? Would you want fake encounters to take place in your country? Would you want Police to decide who should be killed or you want judges to decide who should be given a death sentence? For me, that is a question.  It has nothing to do with secularism or communalism, nothing to do with India and Pakistan.
I live in a country where there is a rule of law. I do not want the Police officer, a thanedar or SP, to decide who should be killed at 2am in night. I want the courts to take that decision. I want the courts to be harsh; I want the courts to be vigilant. I would trust life with judges and courts, not with Police.