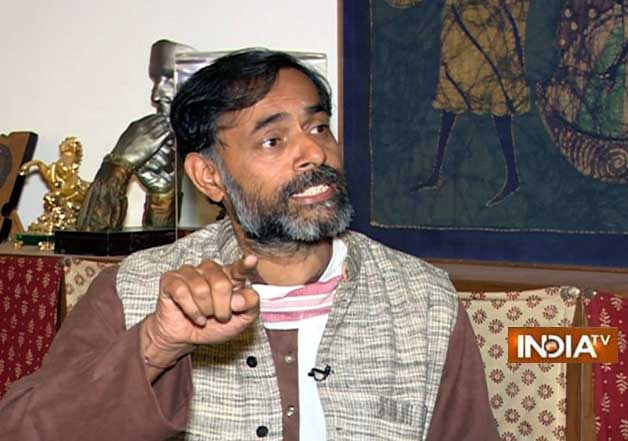 Yes, I misread Arvind Kejriwal
Q: Do you regret that once upon a time you reposed great faith in a person like Arvind Kejriwal who not only called PM Modi a 'psychopath' but has also used abusive language against both you and Prashant Bhushan? In the hindsight, do you think that you misread the persona of Arvind Kejriwal?
Yogendra Yadav:  I did not repose faith in any individual. I reposed faith in the people. Janlokpal movement was one of the most important movements of Indian people and given another chance, I would again join it, I would again go to Ramlila Maidan. Probably I would not go to the stage but I think it was important. There is a 'dharma' of everything. The dharma at that time was, on one hand, you had a corrupt government of Congress and on the other hand, you had people in Ramlila Maidan. Where else would you go? You should go with the people.
As for trusting Arvind Kejriwal, I don't repose faith in individuals. But yes, it's true that I'm disappointed with many persons who took leading positions in that movement, Arvind being one of them.  Did I completely misread him? I misread him to an extent. Some of the things that happened later on truly shocked me but one thing one should do is never judge history by one's own standpoint.
Q: If need be, are you ready to work with him once again? Is there any possibility of patch-up, rapprochement in future?
Yogendra Yadav:  I want to submit humbly to you that there is something called principles. That what went wrong with Aam Aadmi Party was not a personal conflict. It was not even a difference of political strategy. There were some differences but they were handleable. There was a fundamental difference of principles. So, instead of asking me whether I'm willing to go back, you should ask this question to Aam Aadmi Party if they want to come back to those principles. We have not changed our stand.
Q: Was it on account of difference in principles or it was mainly because of the personality of Arvind Kejriwal? People say he has got 'dictatorial' attitude. Was it not the reason for your separation from Aam Aadmi Party (AAP)?
Yogendra Yadav:  When we say personality conflict, it's about ambitions. I want this chair, you want that chair. There was nothing of that kind in Aam Aadmi Party at that point. Arvind was, at that point, the undisputed leader.
The difference was about what does it mean to be a leader? Would Aam Aadmi Party have a leader in a sense Congress has high Command, in the sense Narendra Modi is BJP leader or would there be internal democracy? Would the state units of this party exactly behave like state units of Congress and BJP do or would there be autonomy and independence? And would we have certain minimum moral codes which would be inviolable.
1 year of Kejriwal government
Q: Coming to one year of Kejriwal government, how do you rate the performance of this government? They have delivered on Water and electricity but the most important promise of Janlokpal Bill still remains unfulfilled.
Yogendra Yadav:  How you assess that 1 year of Aam Aadmi Party depends on what is your yardstick? If your yardstick is previous Congress government then I would say that this government has done a shade better than that. If your yardstick is the promises made by this party, I would say it's a very modest achievement, If your yardstick is the extraordinary hopes that you had from this party, I would say it's a 'complete betrayal'.
Specifically  on Janlokpal bill, this bill was critical because this party came into being at that one question, contested election on that promise, resigned from power on Janlokpal and the least that you should have expected was that they would come back to power, bring back that old bill and try and get it passed. Instead, they junked that bill, brought a bill that is worse than Congress-BJP bill. In fact, Uttarakhand BJP bill was better than the bill they have brought in Delhi.
And what is worse as they say in Hindi "Chori aur sinajori". So not only do they bring a new bill, they try and pretend that it is the old bill.  
Q: Why are they doing this? What's their motive?
Yogendra Yadav:  I do not know the personal motive but it's very simple to see what happens when you are out of power. When you are outside power, you want politicians to be accountable. When you yourself are on that seat, you don't want to be accountable especially if you have Jitender Tomar and two dozen MLAs of that kind, then you don't want an independent lokpal.
Q: You were one of the founding members of Aam Aadmi Party. Don't you think you are also to blame for inducting leaders like Jitender Tomar, Somnath Bharti and two ministers against whom there are serious charges?
Yogendra Yadav:  Any founder can never escape the blame and I personally think that people like Prashant and I should have probably brought out these questions a little earlier. What happened after Delhi elections did not happen suddenly. This had been going on for one year. We had given a series of things in writing. So the dilemma is when you see something wrong happening in front of your eyes, what should you do? Come out of your house and do a press conference or try to convince that there is a reason to mend things?
In hindsight, someone might say you should have been faster. May be, one should have been faster but at no point did people like Prashant and I keep quiet about wrong things. We registered our voice at every stage in writing and there is evidence for that.