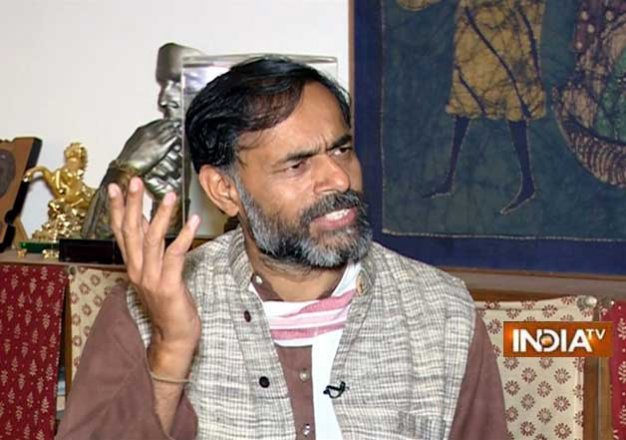 New Delhi: There was a time when Yogendra Yadav was looked upon as the 'chanakya' of Aam Aadmi Party (AAP) and Arvind Kejriwal considered him to be his friend, philosopher and guide.
Later on, things came to such a pass that the same Kejriwal was heard hurling choicest of abuse against his one-time political mentor and Yogendra Yadav sounds hurt when asked to react to that although he fiercely refuses to accept it on record.
In an exclusive interview with indiatvnews.com, Yogendra Yadav opened up on a host of issues including his future plans, his perspective on the performance of 1 year of Arvind Kejriwal government, the ongoing face-off between Kejriwal and Modi governments besides the emotive issue of Ishrat Jahan encounter.
The former AAP ideologue concedes the point that perhaps he misread Arvind Kejriwal to a certain extent although he does not fail to point out that he had never extended support to any individual. Yadav holds both BJP and AAP governments responsible for the ongoing political mess in Delhi.
He also concedes that his organisation 'Swaraj Abhyan' lacks a charismatic face and that he is not sure of whether this will lead to failure given the fact that Indian politics is becoming more and more personality-centric.
Yogendra Yadav might have parted ways with Arvind Kejriwal but his opinion on Narendra Modi government is no different from his former colleague. Yadav unequivocally terms the Modi government as the most anti-farmer in the history of Independent India.
On Ishrat Jahan encounter, Yogendra Yadav's views may ruffle some feathers but he is unambiguous is his opposition to police getting the freedom to kill a person even if he or shes is proved to be a terrorist and an agent of Pakistan.
Here goes the full text of the interview:
Future of 'Swaraj Abhiyan'
Q: What are your future plans? You were supposed to launch a political party but it's getting delayed. Does it indicate some lack of confidence after your bitter experience with Aam Aadmi Party?
Yogendra Yadav:  On 14th April last year, when we started 'Swaraj Abhiyan', we had a poll amongst our well-wishers, sympathisers after which we decided that we do not want to become a political party right now. We laid down some conditions for ourselves. What were those conditions? We said, look, if we say that every other party is not democratic and transparent then one thing that we need to do is to be transparent and democratic  ourselves. Without doing so, how can we be different from others? And we said we should spread as an organisation throughout the country.  
For last 8-10 months, we have worked very hard. I can tell you, I have worked twice as hard compared to when I was with Aam Aadmi Party or in my earlier professional life. We have laid down some parameters.
The time-frame for launching the political party is as soon as possible- the sooner, the better.  But what we do not want to do is to repeat the mistakes of Aam Aadmi Party, namely start getting into all this without adequate preparations, without adequate safeguards and without a 'maryada'. The country needs a new alternative which is truly democratic and transparent.
Q:  The fact is that Indian politics is now becoming more and more personality centric. The problem with your organisation is that you lack a charismatic face like Arvind Kejriwal. People say you would mainly cut into votes of AAP but won't be able to make any real difference to the Indian polity. How would you respond to that?
Yogendra Yadav:  At least I am not a charismatic face and that is something I have absolutely no hesitation in accepting. The question is- does that mean that we, as an organisation, are doomed to failure? I do not know.
All I am saying is that it is not leaders who create movements, movements threw up leaders. Who knew Arvind Kejriwal five years ago? But something happened and these people became important. So why do you rule out new people coming up, people other than me. Why should it be confined to these 4-5 faces? I'm sure; this country of 125 crores has outstanding people somewhere and one of them might come.
Q: Can you please throw some light on your planned anti-corruption convention to be held in New Delhi on October 27?
Yogendra Yadav:  We are holding a convention of anti-corruption activists from all over the country. Anna Ji is expected, Santosh Hegde is coming and all those anti-corruption activists who are still wedded to that idea, they are coming together, led by Prashant Ji. And they are reviving the anti-corruption struggle. That's what it is all about. The media reports about dharna and sit-ins were mistaken.  
Q: People say that Anna Hazare has become a tool for those who use 'fight against corruption' as a slogan to achieve their political ambitions?
Yogendra Yadav:   In politics, every good cause is used by someone or the other. Someone does Ramjanmabhoomi movement. After three years, the party wins elections. If we tomorrow do a farmer's agitation, someone may win elections on that. Does it mean, you should not have farmer's agitation?  Does it mean you should not fight for right causes? Of course, one has to fight for the right cause.  And in a democracy, every big question is always turned into a political question and this is how it should be.