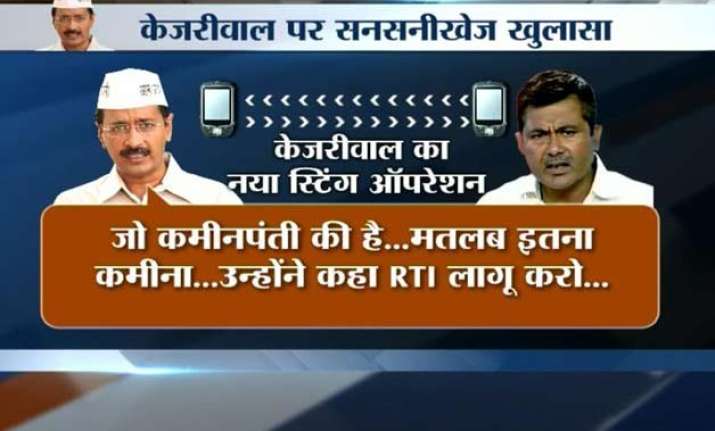 New Delhi: It seems AAP is fast turning into a party of workers who excel in coming up with frequent sting operation of their own leaders.
Arvind Kejriwal, who had encouraged Delhiites to go for sting to expose corrupt elements, is now being given a taste of his own medicine.
Also Read: As war of words intensifies, Prashant Bhushan and Yogendra Yadav may be ousted at AAP meet on Saturday
A new audio sting of Kejriwal  has surfaced  in which Delhi Chief Minister Arvind Kejriwal  is heard using abusive language against dissident leaders like Yogendra Yadav and Prashant Bhushan.
In the audio tape, Kejriwal is also heard as saying that he is planning to   float a new political outfit with his 67 MLAs.
The authenticity of the tape is yet to be established but prima facie the voice is clearly of Kejriwal's. The conversation is believed to be recorded on March 22.
Kejriwal is heard saying, "You work with Prashant Bhushan and Yogendra Yadav, I wish you all the best. I've not come for this infighting. If required, I will leave AAP and form a new party."
The audio tape, believed to be a telephonic conversation between Kejriwal and party leader Umesh Singh, shows disgust of Kejriwal for Prashant Bhushan, Yogendra Yadav and Professor Anand Kumar. Kejriwal can be heard saying, " pichle chaar din me Proff. Anand Kumar aur Ajit Jha ne jo kameenapanti kari hai, matlab itna kameena. (for the last four days, what nonsense Proff. Anand Kumar and Ajit Jha have done, so mean.)
Read Also: AAP crisis: Kejriwal camp hits back, accuses Yadav-Bhushan of lobbying in the party
Kejriwal also reiterated the same thing as his comrades have been saying that they accepted all the demands made by Bhushan-Yadav group.
"They asked to implement RTI in the party; we said okay we are ready. Negotiations are still on. They asked for volunteer participation, we accepted. Now they said yesterday that they were bargaining," Kejriwal can be heard saying in the audio recording.
When Umesh Singh called the Bhushan-Yadav group more capable than the Kejriwal group, he replies, "Kya bargaining kar rahe ho tum log? Itne ghatiya kism ke insaan ho tum log. Jo kam capability wali hamari team kah rahe ho na ye pure aadmi hain hamare. Hamare me kshamta kam ho sakti hai lekin ham dil ke kale nahi hain. Ye log dil ke kale aur ye log ek number ke kameene log hain (what kind of bargaining you people are doing? You are very cheap people. The people you are calling less capable are pure. We might be less capable but we are not bad people. These (Yogendra-Prashant) are bad people and belong to the top class of rascals.)
During his discussion, Kejriwal said that Yogendra camp tried their best to ensure a defeat for AAP in Delhi assembly elections. He says if they had been in other parties, they would've been kicked out. "Kisi aur party me hote, unke peeche laat maarkar party se bahar nikaal dete saalon ko," he is heard saying in the tape.