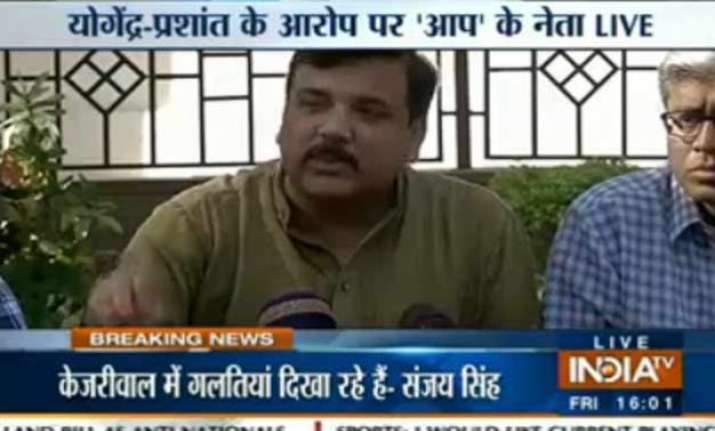 New Delhi: The war of words between the warring factions of AAP is refusing to die down.
After Prashant Bhushan and Yogendra Yadav held a press conference and accused Kejriwal and his cohorts of spreading lies in the media, Delhi CM's supporters hit back by calling a counter- press conference and accusing Bhushan-Yadav duo of indulging in lobbying in the party.
AAP leader Sanjay Singh accused Bhushan-Yadav of not being consistent in their stand. Singh said that they say one thing within the party but go back on their words while talking to the media.
READ ALSO: Kejriwal camp spreading lies, will AAP become just like any other party? ask Bhushan and Yadav
Singh said that Yogendra Yadav talks about internal democracy in the party but contrary to that he submitted a list of leaders to be nominated directly to the National Executive. He also produced a copy of the letter which allegedly had Yadav's hand-writing containing all these 9 names.
"Is it a democratic approach?" asked Singh.
Another AAP leader Ashish Khetan said in the press conference that the two factions had decided to bury the hatchet by issuing a common apology to the workers but Yogendra Yadav backed out at the last moment saying they do not trust Kejriwal and team any longer.
Khetan also produced the draft of the apology letter that was allegedly prepared by Yadav himself.
" Who stopped Yadav-Bhushan from going back on the common apology?" asked Khetan.