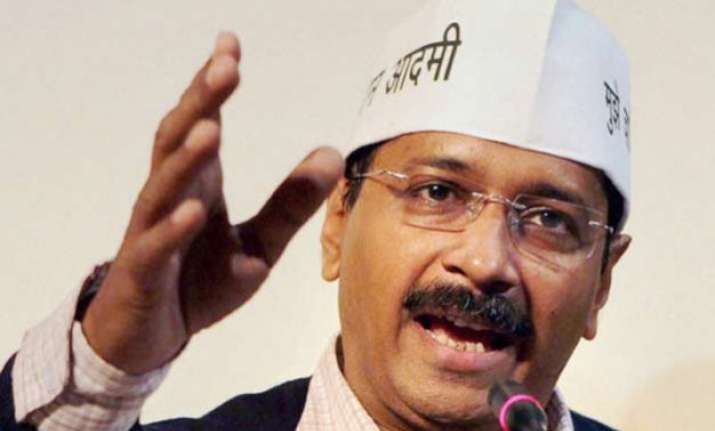 NEW DELHI: A full-blown war broke out in AAP today with dissidents Prashant Bhushan and Yogendra Yadav daring the leadership which appears all set to throw them out at its crucial National Council meeting tomorrow.
Sources said Kejriwal's camp was likely to move a resolution at the meeting to remove the two dissident leaders from the party for allegedly conspiring to replace Kejriwal from AAP convenor's post.
As the warring factions engaged in a no-holds-barred attack on each other levelling variety of allegations, a new audio tape surfaced in which Kejriwal purportedly using expletives against Bhushan and Yadav during a conversation with a volunteer.
He was also heard threatening to float a new party in the tape which was described by AAP as another conspiracy to malign Kejriwal.
People close to Bhushan and Yadav said both the leaders were shocked to hear the tape and realised that there was no point in continuing with the talks as Kejriwal had already decided to dump them from the party.
Earlier, addressing a joint press conference, Bhushan and Yadav launched a blistering attack on Kejriwal accusing him of compromising on party's founding principles and stifling internal democracy.
They claimed that Kejriwal even threatened to float a new regional party with all its MLAs as he "cannot work with us".
The Kejriwal camp strongly rebutted the allegations by the dissident duo and accused the two founding members of working to ensure party's defeat in the Delhi polls, saying they had links with AAP's breakaway faction AVAM which had alleged that the the party got "shady" funds of Rs 2 crore last year.
Asked about Kejriwal camp's efforts to remove them from the party, Bhushan and Yadav said it will not be easy to throw them from the party.
"They can remove us from the National Executive but not from the party. If we have to be removed from the party, the matter has to be referred to the Lokpal or the discplinary committee," Bhushan said.
adav said he and Bhushan had sent a note to the party leadership on March 17 mentioning that they were ready to step down from all posts if their five demands are met.
"We had sent a note to the party placing our demands which is now being shown as our resignation letter. Whereas it was a conditional letter to resign. We had said if our five demands are met, we will resign from all party posts," Yadav said.
The two leaders said they were repeatedly being pressured to resign during the reconciliation talks and clarified that they never raised the issue of the post of party convenorship during the talks.
"Why is it that if we raise any question, our intent is questioned?" Yadav asked, adding their fight is not for personal gains but to restore AAP's founding principles.

Yadav also alleged that the party Constitution has been removed from AAP's official website.
Bhushan slammed Kejriwal for allegedly trying to poach Congress MLAs to form government in Delhi last year.
"The National Executive had rejected a proposal to form government taking support of Congress. Despite that, Kejriwal sent a letter to Lt Governor asking him not to dissolve the assembly," he said.
He identified two "fatal shortcomings" of Kejriwal that he said will potentially damage the party in the long run.
"He wants his decisions to be final. He cannot work with people who have differing voices and stand up to him. He thinks his intentions are right but means should be clean as well. That is not enough, means matter a lot," Bhushan said.
He quoted Kejriwal as saying that he cannot be part of any institution where his writ does not run.
The duo said there was no internal democracy in the AAP and continuous efforts are being made to defame them ahead of the meeting of National Council.
Yadav said there must be an internal probe by the party Lokpal into seizure of liquor allegedly from a godown of a party candidate ahead of the Delhi elections and receiving of Rs 2 crore as donations.
They also released a letter written to party national secretary Pankaj Gupta listing issues to be discussed at tomorrow's National Council meeting.
Bhushan also demanded that all the party meetings should be videographed to ensure transparency.
"They said they would not allow mobile phones inside the National Council meeting whereas other parties allow journalists in such meetings," Bhushan said.
"They were saying they will offer me 'Navin-mukt' Haryana whereas I never asked for any such post," he said, while adding the Kejriwal camp was referring to his detractor Navin Jaihind.
Khetan said according to the Yadav-Bhushan camp, the five points were not a "stumbling block" and the road was clear for a roll-out plan.
"But what happened between 2 PM, when they agreed to all the decisions, and 6.15 PM? At whose behest did they change their mind at the last moment," he asked attacking them for what he termed "holier-than-thou attitude".
"But later it became clear that they did not care about the demands at all. They wanted a list of people selected by them to be nominated to the National Executive," Singh said wondering why Yadav wants "secret ballot" in that case.
He went on to name Prithvi Reddy, Vijay Nair, Meera Sanyal, Atishi Marlena, Gul Panag, Dayamani Barla, Rahul Mehra, Raghav Chaddha, Maruti Bhapkar and Kiran Vissa as the members.
Responding to the duo's demands of video recording the National Council meet, Singh accused them of hypocrisy and said, "They talk of involving volunteers in decision making. Why don't they let the NC members decide on whether to record the conversation or not," Singh asked.