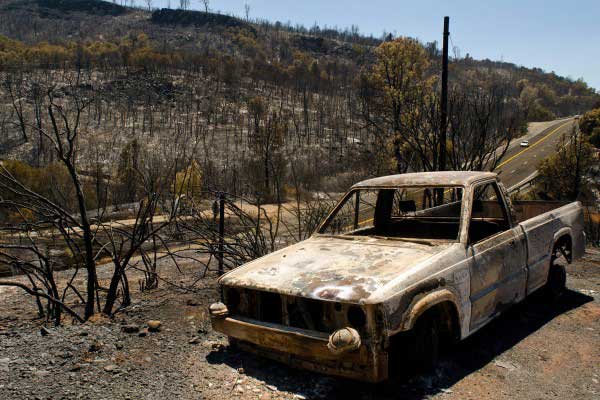 Tehama County, Aug 20 : Thousands of people have been told to leave their homes as a wildfire burning in thick forest threatened rural communities in Northern California.
The fire that started late morning on Saturday has destroyed four homes and consumed nearly 19 square miles of woodland near the towns of Manton, Shingletown and Viola, fire spokesman Daniel Berlant said.
About 3,500 homes spread across a country area along the border of Tehama and Shasta counties are threatened as the fire continues to expand, he said.
The fire's cause has not been determined, but officials said it started after a series of lightning strikes in the area.
No part of the blaze was contained Sunday afternoon, and fire activity had picked up, Berlant said.
Zachary Pritchard said he got burned on parts of his body trying to escape the flames.
"I was on the road but there were flames on the road on either sides and I looked up and everything was black," said Pritchard.
"It was like I was in a black box and I just drove through it and i couldn't breathe and then it was fire everywhere like you turn around everywhere, it was on all sides of you."
The Red Cross set up an evacuation centre in Redding, about 35 miles to the west of the blaze.
The fire, burning in a rugged area of thick forests about 170 miles north of Sacramento, is one of handful of new fires in Northern California.