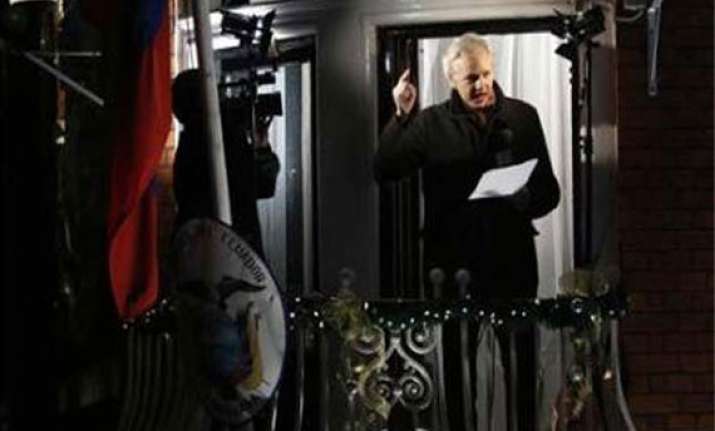 London, Dec 21: WikiLeaks founder Julian Assange, speaking from the balcony of Ecuadorian embassy here on Thursday night, announced that he would be releasing over one million new secret documents that would affect every country in the world in the New Year.
Addressing his suporters, Assange said he had no intention of leaving the Ecuadorian embassy mansion. He decribed the embassy as "my home, my office and my refuge" until "this immoral investigation continues".
His supporters shouted, "We love you Julian'' and they sang Christmas carols while holding  banners "don't shoot the messener" and "Free Assange".
It was Assange second address from the embassy balcony, where he has taken shelter six months ago to evade extradition to Sweden over charges of sexual assault.
"Six months ago I entered this building. It has become my home, my office and my refuge. Thanks to the principled stance of the Ecuadorean government and the support of its people, I am safe in this embassy and safe to speak from this embassy," he said.
Saluting his supporters with a raised fist,  Assange said: "Good evening, London. What a sight for sore eyes. People ask what gives me hope. The answer is right here.''
In a fighting 15-minute address, he said WikiLeaks would "not be cowed''. "Next year will be equally busy. WikiLeaks has over a million documents being prepared to be released—documents that affect every country in the world, every country in this world,'' he said.
Assange said that as long as long as the American government sought to prosecute him and his native country, Australia, refused to defend his journalism, he would remain in the embassy. But, he said, he was open to negotiations.
"However, the door is open, and the door has always been open, for anyone who wishes to use standard procedures to speak to me or guarantee my safe passage," he said.
Assange has been given asylum by Ecuador but is prevented by the British Government from leaving the country arguing that it is under a legal obligation to extradite him to Sweden. He will be arrested the minute he steps out of the embassy.
Police say he broke his bail conditions when he sought refuge in the Ecuadorian embassy without informing them.
Assange alleged that the  case against him was politically motivated. He said the Pentagon had described WikiLeaks as an "ongoing crime''.
Paying tribute to journalists faced harassment because of their work, he said: "It is from the revelation of the truth that all else follows... our civilisation is only as strong as its ideas are true."
"True democracy is not at the White House, It's not in Canberra…It's people armed with true against lies, from Tahrir Square to London.''