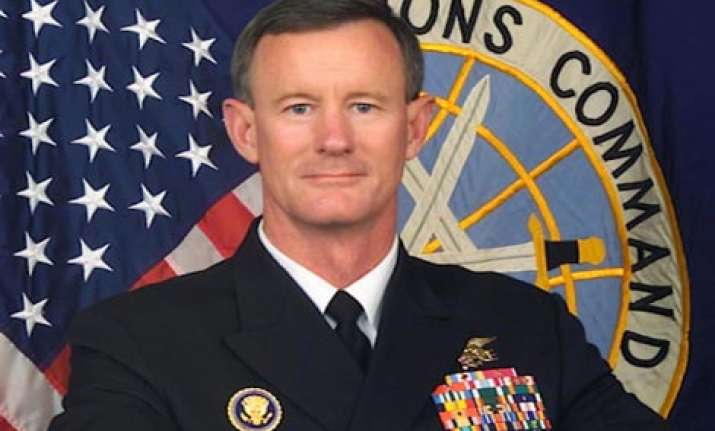 Washington, May 5: The secrecy surrounding the Navy SEALs who President Obama says killed Osama bin Laden during a secret military operation early Monday morning in Pakistan has shined a spotlight on the high-ranking officer whose narration of the mission was repeated in real time to the White House.

US Navy Vice Adm. William McRaven, head of the Joint Special Forces Command, gave reports on the mission's status Sunday night to CIA Director Leon Panetta, who relayed them to  Obama and his top advisers while they waited in the White House Situation Room.As CBS News national security correspondent David Martin reported, McRaven was in charge of the mission.

His identity has thus far been the lowest-ranking one associated with the mission and its success, something that isn't likely to change given the SEALs' reputation as "the quiet professionals"Not too bad for a guy who majored in journalism.McRaven studied the craft of the Fourth Estate at the University of Texas at Austin, the San Antonio Express-News reported Wednesday.

His military experience began in the university's ROTC program, the Express-News reported. Now he's in line to get his fourth star and head U.S. Special Operations Command, in charge of 61,000 special operations troops.He's even written a book looking at past operations like the one that brought American forces to bin Laden's compound.

"He wouldn't ask anybody to do anything that he wouldn't do or that he hasn't already done," retired Air Force Brig. Gen. Michael Longoria, who's known McRaven for about two decades, told the Express-News. "It's a great leadership model."

A San Antonio native, McRaven belonged to his high school's Chess Club, Ecology Club and the Fellowship of Christian Athletes, the Express-News reported. He also ran for the track team and studied drama.