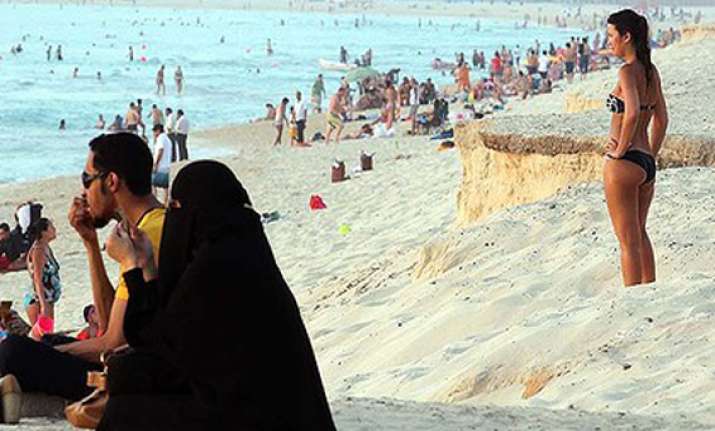 Abu Dhabi, June 18 : The UAE Minister of Culture, Youth and Community Development Dr Al Owais has supported a proposed law to enforce dress code on foreign nationals in the Emirates, including the tourism destination Dubai..
The proposed law is before the Federal National Council of Abu Dhavi, and if it is passed, it will apply to all of UAE, including Dubai.
Dubai FNC member Hamad Al Rahoumi  has porposed the law. He says, mere guidelines to foreign nationals are  not enough.
"If these policies have no law behind them, then how are they (offenders) punished?" Al Rahoumi told the Abu Dhabi newspaper The National. "In some countries they do not allow a face veil or a headscarf. We must also have laws to organise our dress code here."
Meanwhile, a Twitter campaign that links foreign nationals dressed in skimpy clothes to cases of sexual assualt has already stirred a controvery in Abu Dhabi.
Two Emirati women started the online campaign, UAE Dress Code last month, but came under criticism after linking skimpy clothes to sexual assault.
One of the women behind the campaign, Asma Al Muhairi, 23, told the National that she regretted the tweet, but stood by her views.
"A guy might not rape a woman who is dressed like that but it will make him sexually charged and he might rape another," she said.
The campaign calls on visitors to respect the culture of the Muslim country by not dressing provocatively in public places.
"Travelling around the world let u experience the diff cultures. #UAE has its own & no one has the right to change it," read one recent tweet.
Despite having only 2091 followers at the time of writing, the campaign has drawn attention from media organisations and the government.
Emiratis are traditionally conservative. The overwhelming majority of local women wear the full black veil, revealing only their hands and face, while most men wear the traditional white cloak known as the "thawb."
But they are also a minority in their own country. According to latest government estimates, only about 11 per cent of the UAE's 8.2 million population are Emirati nationals.
One campaign supporter, who identified himself as Ibn Thaleth, insisted the campaign was not an attack on foreigners in the UAE.
"They (foreigners) are allowed to do all sorts of things that we don't agree with," Ibn Thaleth said. "We are not against them ... We are just asking them to show our culture a little respect."
Alcohol, though forbidden in Islam, is readily available throughout the year in bars, clubs and restaurants attached to hotels in most of the UAE.
Pork is also sold in supermarkets in a separate section marked "for non-Muslims only."
The Twitter campaign's logo -- a red circle with a black, short-sleeve, knee-length dress -- is widely recognised in the UAE. It is the same image posted on signs in malls urging women to "please wear respectful clothing."