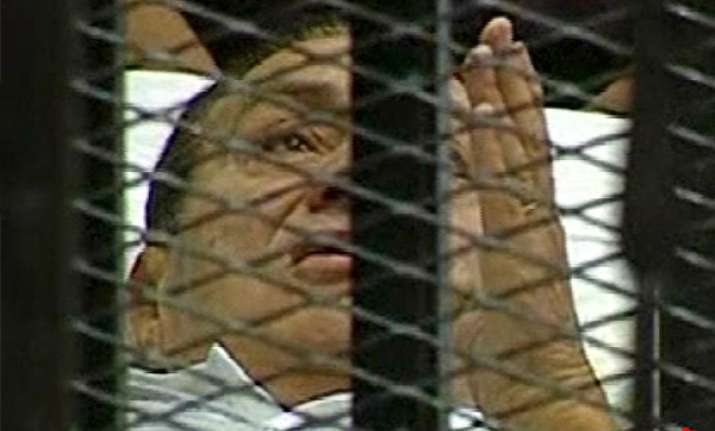 Cairo, Dec 29: The trial of Egypt's former president Hosni Mubarak, who has been accused of corruption and ordering the killing of protesters during the uprising which ousted him in February, resumed on Wednesday after a delay of three months.

As the ailing 83-year-old former dictator returned to court wheeled in on a stretcher, a small crowd—of both his supporters and opponents gathered outside the court.

Dressed in white and covered with a blanket, Mubarak was wheeled out of an ambulance on a stretcher, footage on the state television showed.

A heavy security cover of as many as 5,000 policemen was thrown in to secure the proceedings held at a police academy on the outskirts of the capital, Al Jazeera reported.

Mubarak's lawyers asked for the inventory of arms delivered to the Ministry of Interior for the past four years.

They claim the weapons used to kill the protesters were not from the Ministry in the first place.

They also touched upon recent incidents of violence in Cairo's downtown area as a means to indicate that thugs and outlaws were organizing the protests and not peaceful Egyptians.

A high-profile witness scheduled to appear in court is chief of staff Lieutenant General Sami Hafez Anan, the second-highest ranking official in the ruling military council.

Prosecuting lawyers also asked for Mostafa Abdel Nabi, the former head of the National Security Authority, and Major General Hamdi Badeen, head of the military police, to appear as witnesses.

The judge gave no response to the demands before calling the session to a close.

He set January 2 for the court to reconvene, the report said.

Mubarak is being tried on allegations that he ordered the shooting of peaceful pro-democracy protesters while trying to suppress the 18-day mass uprising that eventually ousted him.

He faces death penalty if found to have been complicit in the killings of over 800 protesters.