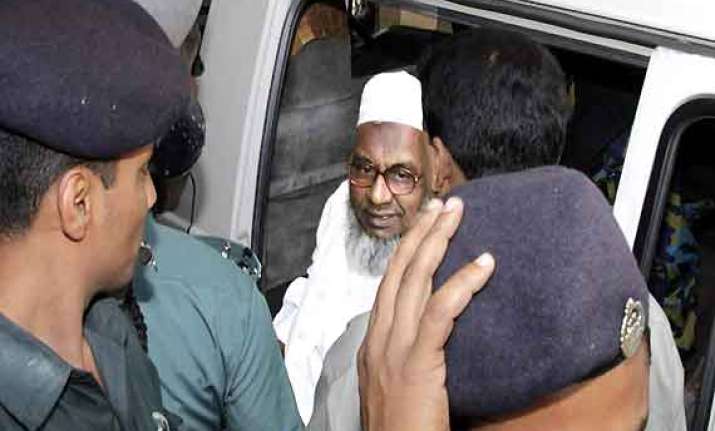 Dhaka: Senior fundamentalist Jamaat-e-Islami leader Abdul Quader Mollah was executed tonight for genocide during Bangladesh's 1971 liberation war, making him the first politician to be hanged for such crimes.  
"He has been executed at 10.01 pm (9.31 pm IST)," an official told reporters outside Dhaka Central Jail.  
Approached by PTI, Inspector General (Prison) Mainuddin Khandker said: "You already know the news, but the jail code does not permit us to tell you anything more."
Mollah's body was kept hanging for 20 minutes before it was brought down, Dhaka's Deputy Commissioner Sheikh Yususf Mreedha said.
The cleric preferring anonymity told a journalist that "Mollah appeared easy as he said his prayers seeking the eternal blessings."
The 65-year-old Mollah was notorious as the "Butcher of Mirpur" for atrocities like rape and the killing of women and children perpetrated in a suburb of Dhaka during the war of independence from Pakistan.
While hundreds of youngsters and 1971 veterans welcomed the hanging chanting Liberation War time slogan "Joy Bangla", violence gripped parts of the country as Jamaat activists called a nationwide strike on Sunday.
Tight security was put in place around the prison complex as the execution was carried out shortly after Mollah's family saw him for the last time. Earlier reports had suggested the execution would take place after midnight.  
Jail sources said 60-year-old prisoner Shahjahan Mian carried out the execution as the chief hangman, with assistance from five other prisoners serving long sentences.