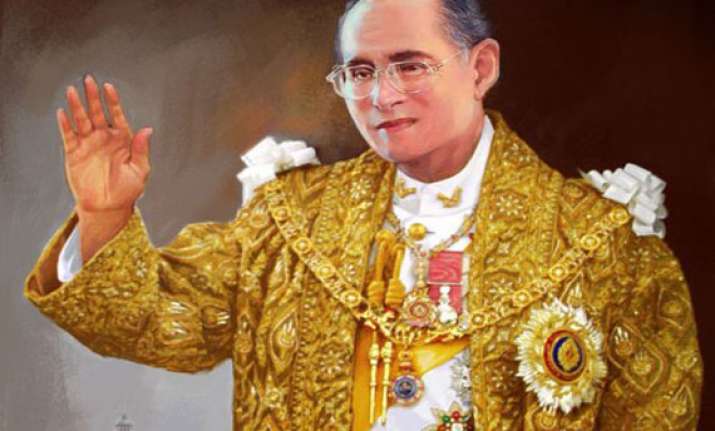 Bangkok, Dec 5: Tens of thousands lined the streets of Bangkok on Wednesday to celebrate the 85th birthday of Thai King Bhumibol Adulyadej, also known as King Rama IX.
Well-wishers chanted, waved flags and held up framed pictures of the king to mark the occasion.
The king emerged from the hospital where he has been staying since 2009, due to a respiratory condition, and drove in a motorcade to the Ananta Samakhom Throne Hall, one of many royal residences in Bangkok.
The king appeared on a balcony at the palace, while Thai dignitaries, including Prime Minister Yingluck Shinawatra, gave speeches below.
The King traditionally makes a speech to the people on his birthday and he said he was pleased with the large turnout.
"The well wishes and the apparent unity I'm seeing here has delighted me and encouraged me," he said.
Thailand has suffered political and social division since a coup toppled controversial Prime Minister Thaksin Shinawatra in 2006 and the monarch is looked up to by many citizens as a non-divisive figure.
His birthday is a national public holiday and celebrations take place across the country.
In Thai society, criticising the king can result in a sentence of up to 15 years in prison for each count.
King Bhumibol Adulyadej sat on a throne on a balcony overlooking a plaza with a crowd that police estimated at 200,000 Wednesday as he delivered a brief homily on national harmony.
Most in the crowd were dressed in the royal color of yellow, many waving Thai flags and flags adorned with the king's insignia.
The turnout was a vivid demonstration of the affection in which many hold the king, despite political turmoil in recent years that has raised doubts about the future of the monarchy.
Bhumibol's family flanked him for part of his appearance, including Crown Prince Vajiralongkorn, his son and heir-apparent.