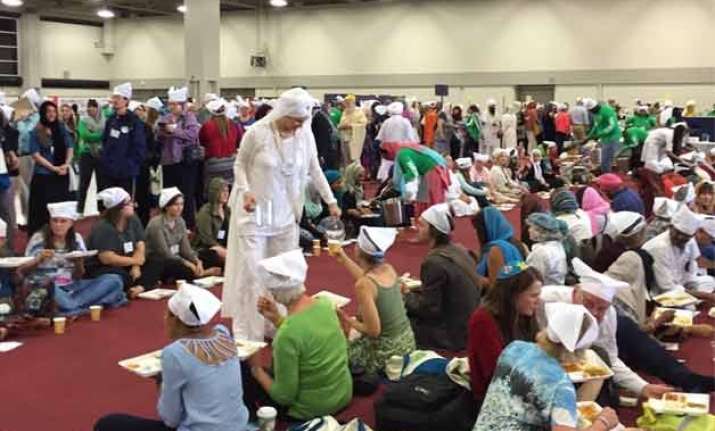 Salt Lake City (USA): One cannot pray with empty stomach and it is true for every person who is participating in Parliament of World's religions. There is one thing that is discussed everywhere in this ocean or religions. People are seen in queues, this is a rare view.
Everyone wants to go to the Langar which has been arranged on the left hand side of Salt Lake City Convention Centre. This tradition of Sikh Religion has given a new flavour to Parliament of World's religions.
Thousands of foreigners, religious leaders, educationists, tourists and students are enjoying the Punjabi food in this Langar.
Langar is a practice in Sikhism which has many hidden teachings. Not only to feed the hungry but also with the feeling of serving the people have the Sikh followers come together. This unity is remarkable at Parliament of World's religions.
Guru Nanak Nishkam Sewa Jattha (UK) initiative of organising Langar has impressed everyone at Parliament of World's religions.
The tradition started by pioneer of Sikh religion Guru Nanak Dev has reached every corner of the world now.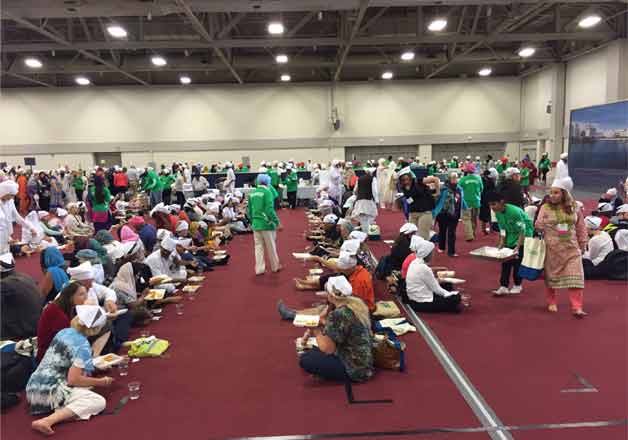 The organisation of Sikh Sant Bhai Mohinder Singh of London started this in previous Parliament of World's religions.
Today thousands of people understand Sikh tradition with the taste of Langar.
President of Jattha Bhai Mohinder Singh believes that he is spreading the teachings of Guru Nanak Dev with selfless feeling.
Langar began on the first day of Parliament of World's religions organised from 15-19 October.
Free Langar is there from morning 11.30 to 4.30 in the evening. Three Thousand people ate in this Langar on first day and on second day around seven thousand people ate here.
Convener of Langar Surjit Singh said that this is the biggest service and they are following their religion by doing this.
The Menu of Langar is also a point of discussion. Everyone is astonished by eating Hot Nan, Paneer Curry, Jira Rice, Dal, Rasmalai and Gulab Jamun.
This view at thousands of kilometre away at Salt Lake City has never been seen before. Large number of Sikh volunteers from UK has arrived at Salt Lake City to conduct Langar in organised manner.
People coming to Langar are served after seating then on the floor; old people who cannot sit on floor are served on table and chair.
Everyone is given a scarf to tie on their head. Organisation has made arrangements for free water, tea and coffee at the venue of Langar.
Every religious representative is happy that through religion message is spread that we must attach ourselves to everyday needs.
Imam Umer Illiyasi the Muslim religious leader from India said this is the biggest service to Humanity.
Due to health problems President of Jattha Bhai Mohinder Singh could not be part of the program, everybody prayed for his health.  
Cultures meet at different places but nobody thought world cultures will meet at Langar.
Volunteers must be feeling happy by taking the teachings of Sikh religion to thousands of people.
(Bhavya Srivastava is a freelance journalist and he is presently in USA to cover 2015 Parliament of the World Religions)