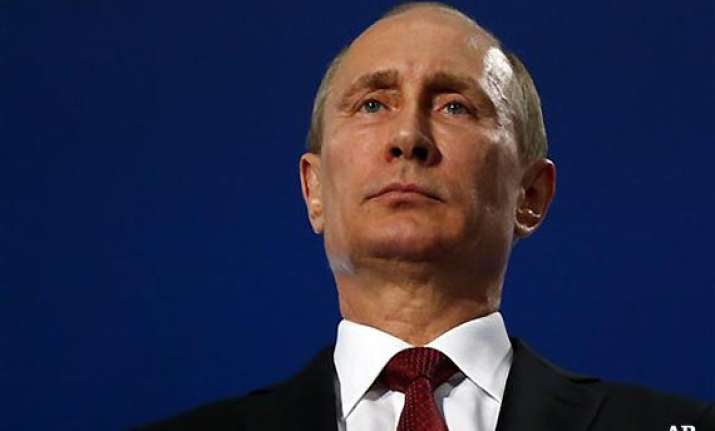 Moscow: Russian President Vladimir Putin has signed a decree recognizing Crimea as a "sovereign and independent country."
The Kremlin said Putin signed the decree on Monday, the day after the Black Sea peninsula voted to declare independence from Ukraine and seek annexation by Russia.
Crimea's declaration of independence Monday from Ukraine triggered the toughest Western sanctions against Russia since the Cold War - with Washington and the European Union retaliating with asset freezes and travel bans and U.S. President Barack Obama vowing to "increase the cost" if the Kremlin does not back down.
Ukraine's turmoil has become Europe's most severe security crisis in years and tensions have been high since Russian troops seized control of Crimea, a strategic Black Sea peninsula that has now decided to merge with Russia. Russian troops are also massed near the border with Russian-speaking eastern Ukraine.
Ukraine's acting president raised tensions on the ground by calling for the activation of some 20,000 military reservists and volunteers across the country and for the mobilization of another 20,000 in the recently formed national guard.
In the Crimean capital of Simferopol, ethnic Russians applauded the Sunday referendum that overwhelmingly called for secession and for joining Russia. Masked men in body armor blocked access for most journalists to the parliament session that declared independence, but the city otherwise appeared to go about its business normally.
The U.S., EU and Ukraine's new government do not recognize the referendum held Sunday in Crimea, which was called hastily as Ukraine's political crisis deepened with the ouster of pro-Russia President Viktor Yanukovych following months of protests and sporadic bloodshed.