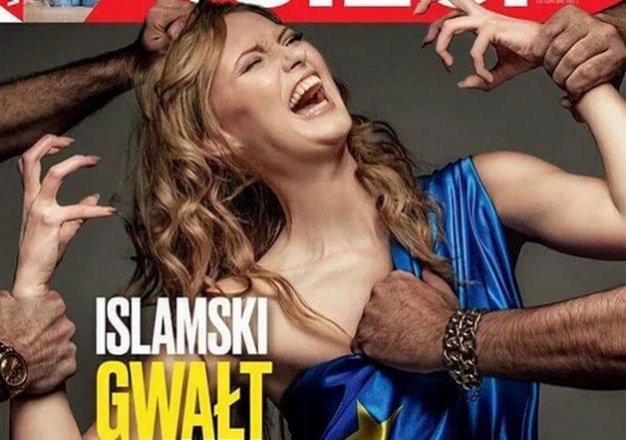 New Delhi: Polish magazine wSieci (The Network) has sparked a controversy after its latest edition showed a blonde female model dressed in a European Union flag screaming as she is clasped by dark-skinned hands. The caption next to the disturbing image reads, 'Islamic rape of Europe'.
Inside this edition of the periodical are stories about the rape and sexual assault of hundreds in women in Cologne, Germany, on New Year's eve. After New Year's eve, over 1,000 complaints were filed, the larger chunk of them being sexual in nature.
Opening the cover article, author Aleksandra Rybinska writes: "The people of old Europe after the events of New Year's Eve in Cologne painfully realised the problems arising from the massive influx of immigrants. The first signs that things were going wrong, however, were there a lot earlier. They were still ignored or were minimised in significance in the name of tolerance and political correctness".
The image has started an outrage on social media many of them saying that it is unacceptable. Media expert Henk van Ess said: 'Sick cover from a big Polish magazine – is deliberately arousing public fear.'
However, other users welcomed the magazine's stance, saying it would open up the debate on the migrant crisis. An account named IsHillaryInJailYet said: 'Polish magazine wSieci writes about the refugee rape culture in Germany. Finally people are talking about this.'
The article lists many attacks on women over the past few weeks. Seeing how assaulted women in Cologne spoke about the horrifying incident, women from many other European cities followed suit.
The feature 'Does Europe Want to Commit Suicide' concluded with, "Europe is an oasis of prosperity and peace compared to Africa and the Middle East, it contends, but the arrival of 'millions' of cultural Muslims will shock and undermine Europe."