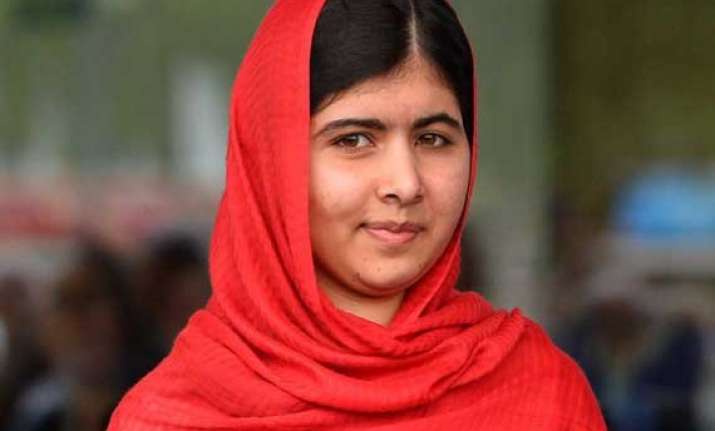 Islamabad: Pakistani President Mamnoon Hussain and Prime Minister Nawaz Sharif Friday congratulated Pakistani girl child education campaigner Malala Yousufzai on winning the Nobel Peace Prize.
Malala shares the award with Indian child rights activist Kailash Satyarthi, Xinhua reported.
"She is pride of Pakistan. She has made her countrymen proud. Her achievement is unparalleled and unequalled. Girls and boys of the world should take the lead from her struggle and commitment," Sharif said in a statement.
"It is an honour for Malala Yousufzai, her family and Pakistan," Pakistan's Interior Minister Chaudhry Nisar Ali Khan said during a press conference.
Former President Asif Ali Zardari congratulated Malala and her family over the Nobel prize.
"Daughter of Pakistan. Ambassador of Peace, Malala Yousufzai, we are proud of you. Our national heroine has won the Nobel Peace Prize. Long Live Pakistan," Zardari tweeted.
Twitter and Facebook are full of messages of congratulations to Malala.
The Norwegian Nobel Committee on Friday decided to award the 2014 Nobel Peace Prize to Kailash Satyarthi and Malala Yousufzai for their struggle against the suppression of children and young people and for the right of all children to education.
Malala, a 17-year-old girl, was shot in head by Taliban militants in October 2012 in her home town in Swat district due to her defiance of the Taliban's ban on girls' education.
The Pakistani Army announced last month that a group of ten Taliban militants, who were allegedly involved in attacking Malala Yousufzai, had been arrested by the security forces.
The arrested militants admitted that Tehreek-e-Taliban Pakistan (TTP) chief Mullah Fazlullah plotted the attack on Malala.