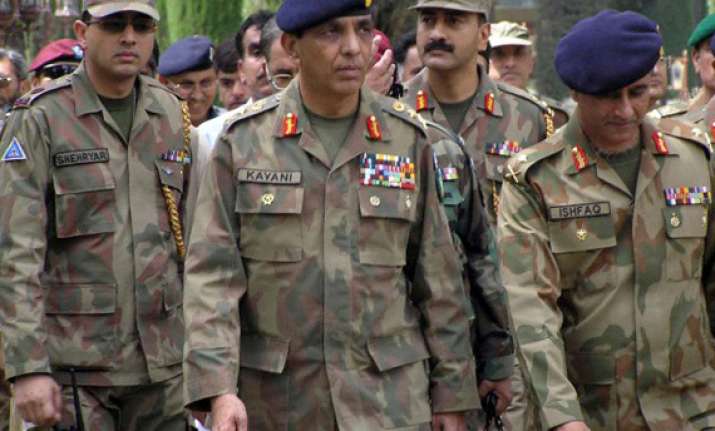 Islamabad, Jan 11: The Pakistan Army today changed the commander of a Rawalpindi-based unit that has traditionally played a vital role in military coups as army chief Gen Ashfaq Parvez Kayani gathered his key aides to assess an escalation in tensions with the civilian government. 

Brig Sarfaraz Ali was named the new commander of the 111 Brigade, an infantry formation that is part of the X Corps and has usually been called out during past military takeovers to take over key buildings and installations in Islamabad and Rawalpindi, sources told PTI.

The change of the commander of the brigade could be part of "posturing" by the powerful military as tensions increased with the Pakistan People's Party-led government over the memo scandal, the sources said.

In a related development, Gen Kayani held a meeting with his Principal Staff Officers at the General Headquarters after the Prime Minister sacked Defence Secretary Lt Gen (retired) Khalid Naeem Lodhi, considered to be very close to the army chief.

Kayani was expected to hold another meeting tomorrow with his PSOs and Corps Commanders, sources said. 

Lodhi was sacked by Gilani minutes after the military warned there could be "grievous consequences" for the premier's remarks that the army and Inter-Services Intelligence chiefs had violated the Constitution in their handling of the memo scandal.

The weak civilian government and the powerful military have been at loggerheads for the past few months over the alleged memo that had sought US help to prevent a feared coup after the killing of Osama bin Laden in Pakistan in May last year.

Gilani said on Monday that the army and ISI chiefs had not sought or obtained approval from the government for replies on the memo issue that they had filed in the Supreme Court. He contended that their actions were "unconstitutional and illegal".

The military hit back today in a terse statement that said Gilani's remarks had "very serious ramifications with potentially grievous consequences for the country".

A statement from Gilani's office said the Defence Secretary was sacked for creating misunderstandings between state institutions over the memo issue.