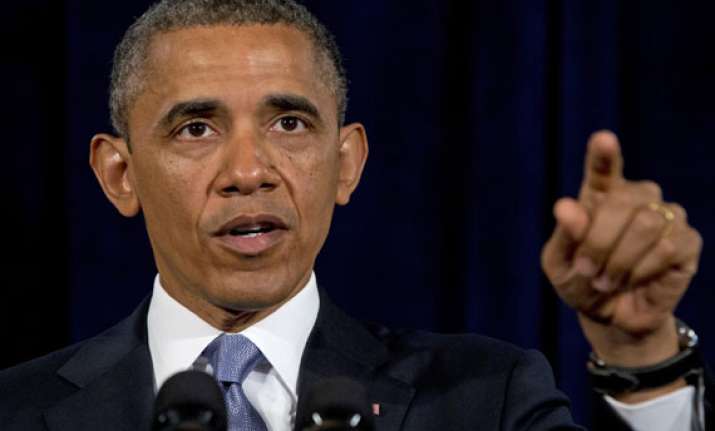 Seoul: President Barack Obama warned North Korea on Saturday that the United States "will not hesitate to use our military might" to defend allies, as he sought to showcase U.S. power in the region amid China's growing influence and Pyongyang's unpredictable nuclear threats.
Obama's visit to Seoul comes as North Korea has threatened to conduct its fourth nuclear test, leading the U.S. President to raise the possibility of further sanctions.
"The commitment that the United States of America has made to the security of the Republic of Korea only grows stronger in the face of aggression," Obama said in a speech to some of the 28,000 American service members stationed in South Korea to keep watch on its northern neighbour.
"Our alliance does not waiver with each bout of their attention seeking. It just gains the support of the rest of the world."
The website 38 North, which closely monitors North Korea, said commercial satellite imagery from Wednesday showed increased movement of vehicles and materials near what are believed to be the entrances to two completed tunnels at Punggye-ri nuclear test site.
The movements could be preparations for an underground atomic explosion, although predicting underground tests is notoriously difficult.
Obama ridiculed North Korea's attempt to show force. "Anybody can make threats," he said. "Anyone can move an army. Anyone can show off a missile. That doesn't make you strong."
"We don't use our military might to impose these things on others, but we will not hesitate to use our military might to defend our allies and our way of life," Obama said to cheers from the uniformed troops who filled a field house at Yongsan Garrison, headquarters for U.S. forces in South Korea.
Obama's 10-minute speech followed a rare joint defence briefing with South Korean President Park Geun-hye that focused on efforts to counter the North's nuclear ambitions.