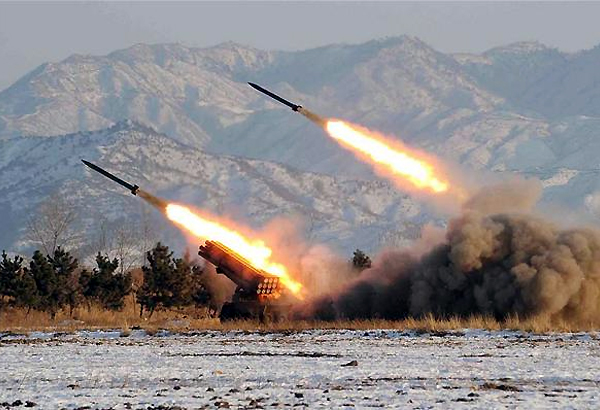 Pyongyang (North Korea), Mar 16: North Korea announced Friday it plans to launch a long-range rocket mounted with a satellite next month, a surprise move that comes weeks after it agreed to nuclear concessions including a moratorium on long-range missile tests.

The launch is to take place exactly three years after a similar launch in April 2009 drew widespread condemnation from the U.S., South Korea and others as a cover for testing North Korea's long-range missile technology.

Liftoff will take place between April 12 and 16 from a launch pad in North Phyongan province, a spokesman for the Korean Committee for Space Technology said in a statement carried by state media.

The launch plan comes as North Korea prepares to celebrate the April 15 centenary of the birth of its founder, Kim Il Sung. Kim's grandson, Kim Jong Un, has led the nation of 24 million since his father, Kim Jong Il, died in December.

The announcement comes after North Korea agreed last month to suspend uranium enrichment, place a moratorium on nuclear and long-range missile tests, and to allow back U.N. weapons inspectors in exchange for much-needed food aid. Uranium enrichment is one way to make atomic bombs. In the past North Korea has also weaponized plutonium for nuclear devices.

North Korea called the April 2009 launch a test of its satellite technology, but it was widely viewed in the West as a violation of U.N. Security Council resolutions prohibiting North Korea from engaging in nuclear and ballistic missile activity.

The statement from the North Korean space committee spokesman said a Kwangmyongsong-3 satellite designed to orbit the earth will be mounted on an Unha-3 rocket from the Sohae station in Cholsan County.

He said North Korea would abide by international regulations governing the launch of satellites for "peaceful" scientific purposes.

North Korea tested nuclear devices in 2006 and 2009 and is believed to have enough weaponized plutonium for four to eight "primitive" atomic bombs, according to scientist Siegfried Hecker of the Center for International Security and Cooperation at Stanford University.

In 2009, North Korea claimed it would begin enriching uranium, a second way to make atomic bombs, and revealed the facility to Hecker and North Korea expert Robert Carlin during a November 2010 visit.

Hecker says North Korea is not producing plutonium at the moment, but there's little information about whether they've made highly enriched uranium or tried to build a bomb using it.

In Seoul, the Unification Ministry said it had no comment yet. South Korea is due to host the Nuclear Security Summit in Seoul in two weeks, and North Korea's nuclear program was expected to be discussed on the sidelines of the gathering of world leaders.