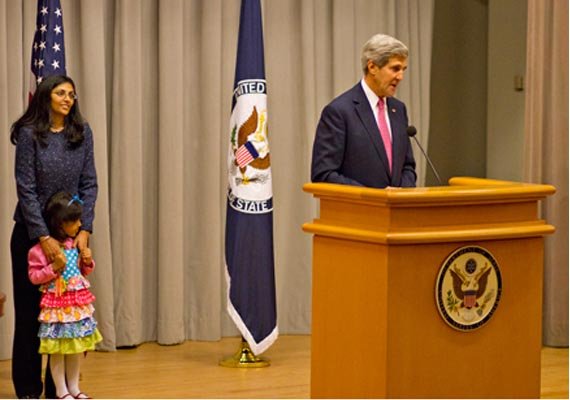 Washington: US Secretary of State John Kerry acknowledged the critical role being played by Nisha Desai Biswal, one of his top diplomats, in building America's relationship with countries in South and Central Asia, particularly India.
"I'm particularly grateful for Nisha more especially because she's making really critical efforts in a key part of the world, obviously, as Assistant Secretary of State for South and Central Asia," Kerry said as he led the maiden Diwali celebrations at the Foggy Bottom headquarters of the State Department.
"She is persistent, tenacious," Kerry said as he praised his Indian-American Assistant Secretary of State for South and Central Asia, Biswal, for the role the top Indian American diplomat has played in strengthening India-US relationship in the past one year.
"I was delighted to select her for that job, and she has not let me down," he said.
Proud parents of Biswal were in the audience when Kerry praised the top diplomat.
"Hooray for you. Well done. I want you to know she's doing a terrific job. I didn't just single you out to tell her how bad she is. I mean she's doing fabulous," said the Secretary of State amidst laughter.
"She (Biswal) left India when she was only six years old, and today, literally in just a few decades, she's become one of the important leaders in American foreign policy," he said.  "Her odyssey, if we call it that, really speaks to the power of the American dream.
It shows how aspirations and traditions and histories from all over the world come together still in this melting pot, and they revitalise and they renew our nation," Kerry said.
"That's really what makes America different from every other place. We are not defined by one race or one ideology or one history.
We are defined by the idea of all people being created equal and being able to come and exercise their right to pursue a dream here in the US, but to become very American in doing so," he said.
"And Nisha has obviously described the way she does that," said Kerry.
Biswal was sworn in as Assistant Secretary of State for South and Central Asian Affairs on October 21, 2013.  
Previously, she served from September 2010 as Assistant Administrator for Asia at USAID, where she oversaw USD 1.2 billion in assistance to 22 countries from Central Asia to the Pacific Islands and managed a bureau and overseas staff of over 1,200 development professionals.