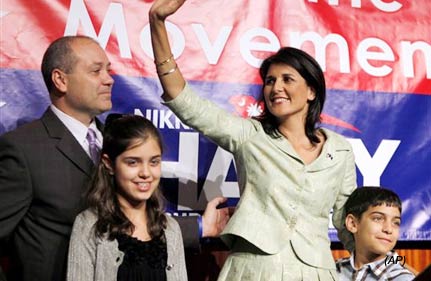 Washington, Nov 3: From a state legislature to governor of South Carolina in just a short span of six years in politics, Nikki Randhawa Haley, is being hailed as a new rising star on the American political horizon.
Daughter of Punjabi Sikh immigrants from Amritsar, Namrata Nikki Randhawa Haley, who has become the first Indian origin woman to become the governor of a US state has been propelled to centre stage of American politics after her baptisation into politics in 2004,.
She is the second Indian-American leader after Bobby Jindal, the governor of Louisina to have caught the attention of the Americans.
It has not all been smooth sailing for the tall Haley, mother of two children, son Nalin, 9, and daughter Rena, 12 as she had to overcome allegations of extra-marital affairs and racial digs in her race to become the first Asian woman to don a US governorship.
Months before she announced her intention to run for the gubernatorial assignment, Nikki, 38, was little known on the American national horizon, but she turned the tables on her democrat rivals by winning endorsement from political heavyweights like the former Alaska Governor Sarah Palin and another top Republican leader Mitt Rotney.
In a roller-coaster ride to governor's chair, Nikki as she has popularly come to be known has also the rare distinction of appearing on the cover of the Newsweek.
She fought a tough battle in the primaries as also in the final run for the governorship receiving 52 per cent of the polled votes as against her Democratic rival Vincent Sheehan, who polled 46 per cent.
The much expected victory did not come before giving some anxious moment to Haley and her campaign.
For some portion of the counting of votes, Haley was trailing, and then running neck-to-neck with Sheehan before she took a handsome unbeatable lead.
Despite initial hiccups, when she was little known outside South Carolina, Nikki appeared confident way back in June 2009.
"I know, I am going to make this happen. I am going to win the race," Nikki told Press Trust of India in an interview at the Capitol Hill in June 2009, where she attended a luncheon fund raising event for her organised by the Indian American Republican Political Action Committee.
"My parents are extremely proud. My husband is very supportive. My children are excited. My siblings are willing go out work for me," she said. PTI