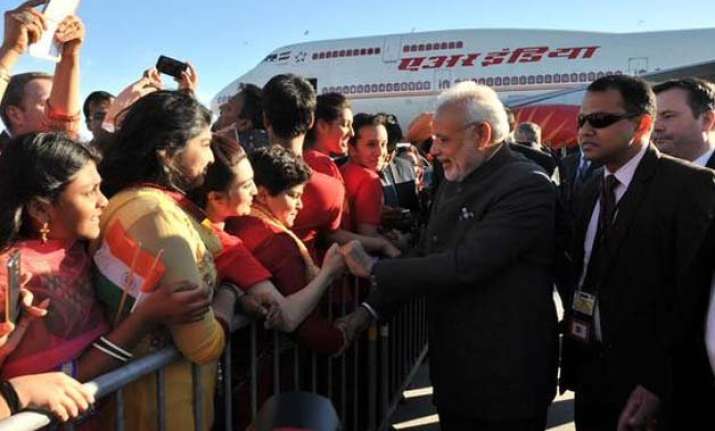 Ottawa: Prime Minister Narendra Modi arrived in Ottawa today morning on the third and final leg of his three-nation tour.
He received a warm welcome from the Indian community outside the Fairmont Chateau Laurier in Ottawa. People waved the tricolour and reached out to shake hands with the visiting Prime Minister.
The Prime Minister is scheduled to meet Canadian Governor General David Johnston today.
During his three-day stay in Canada, he will hold talks with his Canadian counterpart Stephen Harper on a wide range of issues, including nuclear energy, trade and investment. Canada's Cameco Corp, one of the world's biggest uranium producers, has been holding talks with Indian government officials for a long term supply arrangement.
This is a first bilateral visit by an Indian Prime Minister in 42 years. 
"It is a historic milestone in our bilateral ties as in 42 years, this is the first standalone bilateral visit by an Indian Prime Minister. Therefore, we are focused on setting a trajectory which will reflect in the discussions," External Affairs Ministry spokesman Syed Akbaruddin said soon after Modi's arrival here.
"We expect substantive outcomes," Akbaruddin said, adding that the focus will be on several areas like energy, which is "a major aspect", besides agriculture, skill development and education.
"All these have been identified by the Prime Minister as areas which are necessary for development of India," Akbaruddin added.
Modi, who arrived here after concluding a successful visit to German, will also reach out to the Indian diaspora in Toronto and Vancouver.  
He will also visit a memorial set up for the 1985 Kanishka air crash victims in Toronto as also Laxmi Narayan Temple in Vancouver.
The Prime Minister will later be meeting officials of the Pension Fund of Canada which has the corpus of 200 million dollars and discuss how to ease the investment opportunities for it.
India sees Canada as an important partner in fulfilling its developmental needs and expects the visit to impart new vigour in bilateral relations.
India is confident that the proposed Foreign Investment Promotion and Protection Agreement (FIPA) between India and Canada will be signed soon, as authorities on both sides have stepped up efforts for the agreement that has been in limbo since 2007, sources said.
India's concerns have been over certain provisions of the negotiated pact, which allow a foreign investor to sue the host country at an international dispute settlement agency bypassing the domestic legal system.
The Indo-Canadian community has urged the Prime Minister to provide electronic travel visa facilities to Canadians.
An Electronic Travel Authority (ETA) will help Canadians to travel to India for tourism or business for stays of 90 days or less with an electronic Indian visa without having to submit the original passport and visa application.  Citizens of 42 countries have this facility now.  After official meetings in Ottawa, Modi will deliver a speech at the Ricoh Coliseum in Toronto on Wednesday.
He will end the trip with a state dinner with Harper in Vancouver and visit Sikh and Hindu temples in Vancouver and Surrey