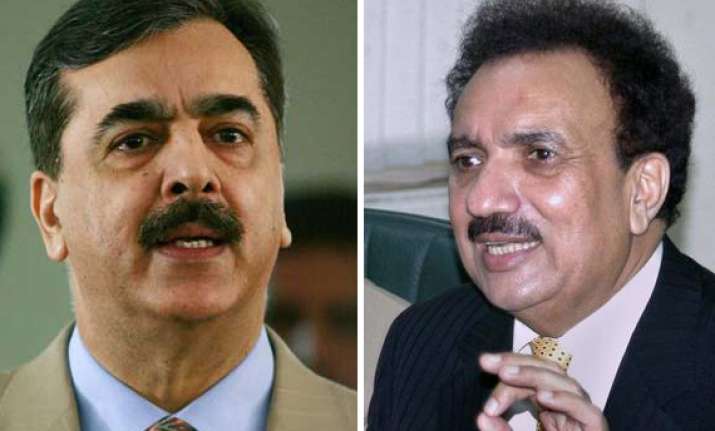 Islamabad, Oct 20: Pakistan Prime Minister Yousuf Raza Gilani has "serious reservations" about Rehman Malik's claim of the uncovering of an al Qaeda plot to kidnap Bilawal Bhutto Zardari and feels the Interior Minister's penchant to remain in headlines was behind the statement.
 
Gilani made the remarks during a recent meal with some parliamentarians, the Dawn newspaper quoted its sources as saying.
The premier expressed his "serious reservations" at Malik's claim about uncovering a plot by al Qaeda and Taliban to kidnap the chairman of the ruling Pakistan People's Party.
 
"I really cannot understand what prompted Mr Malik to pass such a statement to the media on a very sensitive issue. His only problem is that he always wants to be in headlines," Gilani was quoted as saying by an unnamed aide.
 
The report said: "Anybody who is privy to Prime Minister Yousuf Raza Gilani, has no doubts that he does not like Interior Minister Rehman Malik mainly because of his weakness for antics. But of late, the premier has started speaking his mind about Mr Malik with regularity".

During a recent interaction with the media, Malik claimed al Qaeda and the Tehrik-e-Taliban Pakistan had hatched a plot to kidnap Bilawal Bhutto Zardari in Karachi.

He said the information had come to light two weeks ago.  The Taliban and al Qaeda had designs on VIPs but the government was taking steps to pre-empt their aims, he said.
 
Gilani further said that Malik had been "advised to be careful while talking to media" but he did not listen to anybody.

The aide said Gilani was "perturbed" over Malik's remarks about the plot to abduct Bilawal.