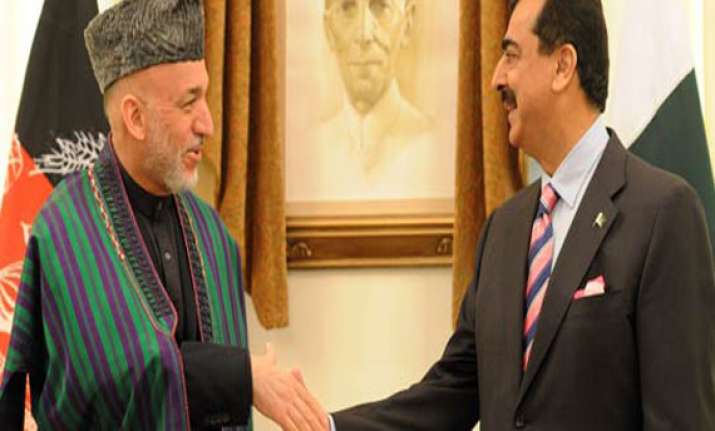 London, Feb 17 : Afghan President Hamid Karzai made a torrid attack on the Pakistani leadership in a face-to-face meeting with Prime Minister Yousuf Raza Gilani, demanding that Islamabad produce the top Taliban leaders to negotiate with him.

Karzai confronted the Pakistanis at an official delegation level talks yesterday in Islamabad between the two countries on the sidelines of a trilateral summit meeting of Afghanistan, Pakistan and Iran, The Guardian reported today. 

The Afghan president's language and tone flared to such an extent that Gilani intervened and called a halt to a meeting of the full delegations of the two countries, the paper said quoting officials on both sides.  After a break, a smaller meeting of just the top officials was held, on the first day of a two-day visit to Islamabad.

The Guardian said Karzai boiled over apparentlyat his frustration with the country he accuses of harbouring the Taliban. The Afghan president has long demanded that Pakistan bring the leadership of the Taliban to the negotiating table, including its chief, Mullah Mohammad Omar. 

The Afghan side's main meeting was with the combined Pakistani civilian and military leadership, which went on for around three hours, with the Pakistani prime minister, foreign minister, army chief and head of the intelligence service all present.

At one point, apparently directing his remarks to Pakistan's Foreign Minister Hina Rabbani Khar, Karzai asked:"Would you be willing to stop girls studying in schools and university in Pakistan?" The Taliban, when it ruled Afghanistan in the 1990s, stopped the education of girls and banned women from working.