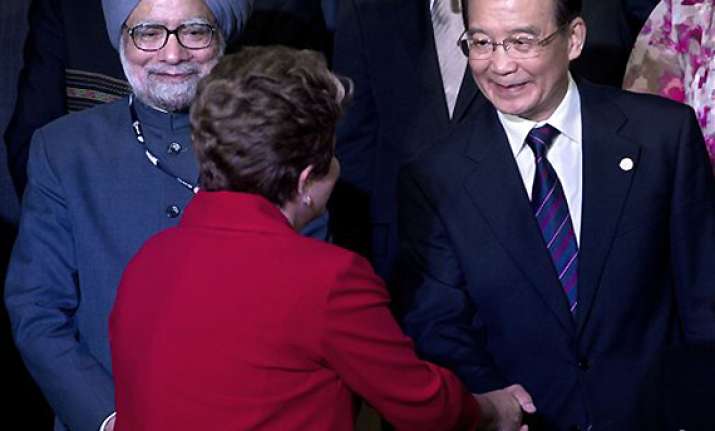 Rio de Janeiro, Jun 21: India and China today agreed to step up their defence and security dialogue and take steps to achieve a bilateral trade target of USD 100 billion by 2015.
Prime Minister Manmohan Singh and his Chinese counterpart Wen Jiabao spoke of the need to continue with this dialogue at their 40-minute meeting on the sidelines of the Rioრ Environment Summit here.
Briefing reporters after the meeting, Foreign Secretary Ranjan Mathai said that during the discussion on trade and economic cooperation Prime Minister Singh invited Chinese investment in infrastructure in India.
Mathai also said that Indian rice exports to China will commence soon.
Reflecting the good chemistry shared between them, Wen told Singh that their meeting in Brazil was the 13th.  
Mathai said the two leaders discussed the issue of trans-border rivers flowing in India and China during which Beijing agreed to transfer of data in this regard to New Delhi.  
Official sources said this move sent a strong signal from China on sharing of information with India on the rivers issue. This was also important since India was a lower riparian country.
"Defence and strategic dialogue (between India and China) should continue and be stepped up," Mathai said.  
The two countries have already agreed to establish a "strategic and cooperative partnership for peace and prosperity".
They have also reiterated their intention to promote regular ministerial-level exchanges and make full use of the strategic dialogue and other bilateral dialogue mechanisms. Prime Minister Singh also spoke of Indian naval ships recently visiting China.
On the boundary question, Singh and Wen said the Special Representatives of the two countries have been asked to prepare details of the joint work done so far.  
The two leaders also spoke of the joint mechanism set up by the two sides. The mechanism was floated by Wen last year.  Mathai described as "good" the bilateral meeting. He said the two countries are on track to achieve USD 100 billion trade target by 2015.
Chinese authorities have already given the green light for Indian exports of basmati rice following a long and tortuous six-year process that has been seen as underscoring the difficulties of navigating the complex bureaucratic hurdles that bar entry into the China market.  
Negotiations on the issue of rice exports were on since 2006, when President Hu Jintao visited India. It took another visit from Hu six years later, when he travelled to New Delhi last month for the BRICS Summit in April, to give the final push to a long-running process.
Indian exporters can begin shipping basmati rice to China after both countries agree on a mutually satisfactory quarantine protocol.
On the trans-border rivers issue, China has maintained that its hydropower project on Brahmaputra river in Tibet was not obstructing the water flow to India. It has also said that its dam was not big enough to affect the lower riparian regions like in India.
But Arunachal Pradesh government says that the Brahmaputra river was suddenly found to have almost dried up at a town in the state; Tsangpo river is the Tibetan name for Brahmaputra. It originates from Angsi glacier, located on the northern side of the Himalayas in Burang County of Tibet.  
Meanwhile, Wen said the two sides need to further consolidate their political and strategic mutual trust and ensure that their ties will move forward on the right track.  
"Under the current complex global and regional circumstances, China and India face mutual challenges and opportunities," Wen said, adding that deepening their strategic and cooperative partnership serves the fundamental interests of both countries and the world at large.